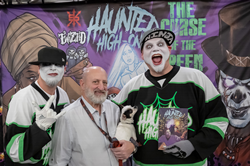 "When I heard we were nominated for RINGO Awards, I was so excited, it was surreal," Madrox shares. "I mean our little comic series making big waves is a reasonable possibility, but to be acknowledged among other creative minds in the field is an honor for sure."
DETROIT (PRWEB) October 03, 2020
Detroit Alternative Rap duo, Twiztid, found out last week, their comic book series "Haunted High-On's" was nominated for three Ringo Awards: Best Humor Comic, Best Artist or Penciller (Marianna Pescosta), and Best Colorist (Alessandro de Fornasari). Their nominations join the ranks of comic book royalty, as contenders in the categories include DC's Superman's Pal -Jimmy Olsen and Wonder Twins.
Twiztid's, "Haunted High-On's," saw the light of day a little over a year ago after the duo reluctantly ran a Kickstarter campaign to get the series off the ground. The series sold out immediately and grabbed the attention of The Boys Executive Producer, Ken F. Levin of NightSky Productions. In February of 2020, Twiztid and Levin announced at Astronomicon 3 a deal to collaborate with NightSky on an adaption of the comic to develop it for an animated program.
"The RINGO Awards are named for a beloved artist, Mike Wieringo, who died way too soon in his early 40's," Ken F Levin said. "His fantasy independent comic TELLOS was extraordinary in its scope and imagination. Professionals marveled at TELLOS, which is why the RINGO awards are so special; its peers recognizing fellow professionals for outstanding work. This is the first Ringo award I've been affiliated with. The fact that "Haunted High-On's" has been nominated for the Ringo award for BEST HUMOR COMIC is a tremendous compliment to the whole team."
Twiztid, comprised of Jamie Madrox and Paul Methric, have always been avid comic book fans and collectors. "When I heard we were nominated for RINGO Awards, I was so excited, it was surreal," Madrox shares. "I mean our little comic series making big waves is a reasonable possibility, but to be acknowledged among other creative minds in the field is an honor for sure."
The Ringo Awards, also referred to as The Mike Wieringo Comic Book Industry Awards, is an annual celebration of the creativity, skill and fun of comics. Wieringo was one of the artists who created The Flash, DC's breakthrough comic in the 90's. As his career progressed, he worked on projects including Marvel's Fantastic Four, The Adventures of Superman, Sensational Spiderman and Robin. The nominations are provided by an open vote among comic-book professionals and fans. These awards are considered one of the most prestigious in the comic book industry.
The fourth annual Ringo Awards will be announced on-line on October 24, 2020 at Baltimore Comic Con. Voting is open to the public. To see the all the nominees and respective categories go to http://www.ringoawards.com.
Twiztid's "Haunted High-On's" is published and distributed through Source Point Press, a Michigan based independent comic publisher.
For more information about Twiztid's "Haunted High On's" visit http://www.twiztid.com.