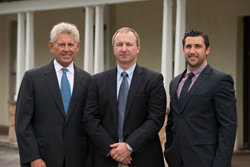 No business lasts over the long haul if it can't re-invent itself to address the evolving preferences and needs of its customers. says Brett Black.
Malvern, Pennsylvania (PRWEB) January 17, 2017
Devault Foods, a leader in portion-controlled meat preparation and packing, has evolved over the last seven decades. The company now provides most of the proteins that reside in the center of your plate, including burgers, meatballs, Philly steaks, sausages, steaks and chops. Since 1970, Tom Fillippo has led the Company as President with remarkable resolve. Tom successfully navigated the company through major industry changes and branded Devault Foods as one of the most respected companies in our industry. It is with tremendous gratitude, respect, and delight that we announce Tom Fillippo's transition into his new fulltime role as Chairman of the Board of Devault Foods.
The next phase of the Company's growth as envisioned by Tom himself, will be led by Brett Black, Chief Operating Officer who will assume the role of President and Chief Executive Officer. Black will be the third person in the Company's history to hold that title. Sharing in leadership of the Company's vision, Thomas W. Fillippo has been promoted to Executive Vice President of Devault Foods. Brett and Thomas will continue to work collaboratively with Michael Zacco, Executive Vice President of Sales and Marketing, Rick Cheri, Director of Operations, and the exceptional Finance team. These highly skilled professionals are positioned to fulfill the long term vision for Devault Foods.
"Devault Foods is rapidly growing into an unrivaled company with operational excellence," says Tom Fillippo. "I have strong confidence in Brett, Thomas and the leadership team to successfully carry the Fillippo family legacy into the distant future." The Company is unwavering in a commitment to quality and service which happens to exceed any competitors. The course to ensure continued longevity and success includes driving continuous improvement in operations, developing new trends, expanding product categories and capturing market share in growing geographic markets.
Devault Foods has changed and evolved over the decades. Change is the new constant with technology developments, globalization and new competitors disrupting traditional business models. "No business lasts over the long haul if it can't re-invent itself to address the evolving preferences and needs of its customers." says Brett Black. Devault Foods is in a strong position to succeed and the time is ripe to aggressively pursue the Company's new goals.
# # #
Devault Foods is built upon seven (7) decades of the Fillippo family's experience. The heritage includes cattle farmers, butchers and recently, leaders in the food service industry. Devault Foods is unrivaled in operational excellence and a market leader in portion-controlled meat packaging. Today, Devault Foods is focused on current trends and the future needs of the marketplace. Commitment to quality and excellence goes beyond industry standards and provides a platform to deliver exceptional products well into the future. For more