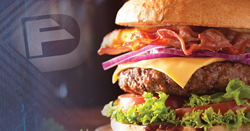 Our competitive advantage is our ability to consistently blend a high quality, great tasting burger, says Brett Black President & CEO.
Malvern, Pennsylvania (PRWEB) February 28, 2017
Devault Foods is a key leader in portion-controlled and private label meat preparation, packing and distribution. Great taste and consistent quality have enabled Devault Foods to evolve over the last seven decades. The company now provides most of the proteins that reside in the center of a plate, including burgers, meatballs, Philly steaks, sausages, as well as farm-to-table steaks and chops. Today Devault Foods is proud to announce the launch of a line of Signature Fresh and Frozen Burgers. The burgers represent the best of Devault Foods' heritage, experience and taste.
As a manufacturer, Devault Foods has been behind the scenes but always ahead of taste. Devault Foods has created and consistently delivers excellent taste to many of the most popular burger joints. "Fresh Never Frozen" was a brand promise that Devault Foods helped create and delivered upon for decades. In 1997 Devault Foods parted ways – on good terms – with fast food chains to pursue business growth in other market segments and with new products. Today's announcement brings together Devault Foods history, commitment and experience in creating America's favorite meals with a Signature seal.
The three Signature Burgers are a custom blend of Angus Chuck-Brisket-Short Rib, Angus Ribeye, and Angus Brisket-Short Rib. The flavor and juiciness of the burgers are sealed in with a proprietary Individually Quick Chilled™ process. It insures a guarantee to chefs, restaurant owners and most importantly consumers that they are going to have the most delicious eating experience.
In today's world of couture burgers, food porn and fast-casual epicureans, consistent, exceptional taste is a necessity. If that is your goal, then the solution is definitely Devault Foods. For more information on Devault Foods Signature Burger Line, please contact 1-800-HAM-BURG, info(at)DevaultFoods.com or visit http://www.DevaultFoods.com.
Devault Foods is built upon seven (7) decades of the Fillippo family's experience. The heritage includes cattle farmers, butchers and recently, leaders in the food service industry. Devault Foods is unrivaled in operational excellence and a market leader in portion-controlled meat packaging. Today, Devault Foods is focused on current trends and the future needs of the marketplace. Commitment to quality and excellence goes beyond industry standards and provides a platform to deliver exceptional products well into the future. For more information, please visit http://www.devaultfoods.com.