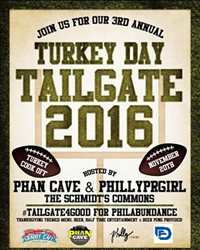 It is an honor for Devault Foods to be invited to compete. Raising awareness and food for families facing insecurities have been important to the Devault Foods family for generations, says Executive Chef Ethan Posilkin.
Malvern, Pennsylvania (PRWEB) November 08, 2016
The third annual Turkey Day Tailgate to benefit Philabundance will take place on Sunday, November 20th at Schmidt's Commons in Philadelphia beginning at 3:30 pm. Tailgate veterans, Philly Phan Cave and Philly PR Girl, will three-peat host the event. Schmidt's Commons serves as a perfect backdrop for an Eagles (vs. Seattle Seahawks) tailgate and viewing party. The game will be projected onto the big screen; game time is 4:25.
New to the event this year is a Turkey Cook-off. Local chefs have been invited to present a creative, turkey-themed dish for consideration by a panel of celebrity judges. Event participants will also have an opportunity to taste each entry and select the 'Phan Phavorite'!
All of this phun is for a purpose. The intention behind the occasion is to raise awareness and collect food donations for local families facing food insecurity. Proceeds from the event and food collections will be donated to Philabundance. During this season, Philabundance serves more than 90,000 people each week in nine counties in PA and NJ. Of those served, thirty percent are children, and sixteen percent are seniors.
Devault Foods Executive Chef Ethan Posilkin expressed," it's an honor to have been asked to participate in this event. " His recent creation for the Philly Cheese Steak Festival was a phan phavorite and he plans to prepare an equally creative and delicious turkey selection for tailgate participants. Without giving too much away, the terms Cranberry Mostarda and Spice Au Jus have been heard from the Devault Foods test kitchen!
It is an even deeper honor for the Devault Foods family to participate in an event that sheds light on food insecurity in our region. In an October interview with CNN, Mariana Chilton, a national leader addressing childhood hunger and Associate Professor at Drexel University's Dornsife School of Public Heath stated "minor improvements in employment rates and the economy starting to bounce back have predictably effected decreases in food insecurity." However Professor Chilton cautions, "It's no time to celebrate." With a poverty rate exceeding 20% in Philadelphia, it's wise to remain focused on the goal of creating access for all people, at all times to enough food for an active, healthy life.
"Join the Devault Foods family at the Turkey Day Tailgate and bring your donation of non-perishable food items." says Brett Black, Chief Operating Officer. "Don't be a chicken! Help us soar past our goal of 1,000 lbs. of food donated on November 20th." Devault Foods remains dedicated to addressing hunger in all forms. As of this release, Devault Foods has donated over $60,000.00 of food to communities in need.
For more information on tickets, go to https://phan-cave.ticketleap.com/3rd-annual-turkey-day-tailgate/
For more information from Philabundance on the most needed items, go to https://www.philabundance.org/wp-content/uploads/2013/10/PHLB-Community-Food-Drive-toolkit-NSSR-edit.pdf.pdf
# # #
Devault Foods is built upon seven (7) decades of the Fillippo family's experience. The heritage includes cattle farmers, butchers and recently, leaders in the food service industry. Devault Foods is unrivaled in operational excellence and a market leader in portion-controlled meat packaging. Today, Devault Foods is focused on current trends and the future needs of the marketplace. Commitment to quality and excellence goes beyond industry standards and provides a platform to deliver exceptional products well into the future. For more information, please visit http://www.devaultfoods.com