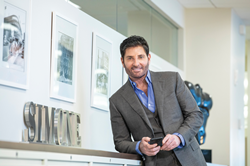 "We are seeing the proliferation of free-standing emergency rooms, healthcare monitoring apps, home health devices, and even classic house calls," said Joe Simone. "All these services are designed to satisfy the growing demand for convenient care."
BRONX, N.Y. (PRWEB) November 08, 2021
Competition to deliver the most convenient care is a factor in recent announcements about new medical real estate projects, says Joe Simone, President of Simone Development Companies.
Across the United States, hospital networks are unveiling proposals that consolidate offices and services in easy-to-access locations to attract patients who have grown accustomed to appointment-free urgent care and telehealth.
"In October, Mount Sinai Morningside filed plans for a $28.5 million outpatient clinic in New York City's Harlem neighborhood that consolidates primary care, surgical services, and AIDS outpatient health from several other locations with the goal of integrating care and reducing inefficiency," said Joe Simone, President of Simone Development Companies. "Similarly, UChicago Medicine recently announced a hospital in northwest Indiana. Again, the goal is to deliver a seamless experience to patients who need convenient access to advanced care."
Simone Development Companies is a leader in the push for convenient healthcare with the development of the Hutchinson Metro Center, a 42-acre mixed-use campus in the Bronx that combines an ambulatory surgical center with retail, hospitality, office, and doctors' offices.
"Bronx residents can receive every aspect of their health care at the Hutchinson Metro Center," said Joe Simone. "The old, fragmented model of health care where a primary care doctor and a specialist were miles apart in a congested city didn't work for many Bronx residents, who prefer an integrated campus with ample parking and easy access to public transportation."
Another example is Simone Development's Boyce Thompson Center in Yonkers, NY, an 85,000-square-foot mixed-use center featuring medical offices, retail shops and restaurants. Major anchor tenants include St. John's Riverside Hospital and Westmed Medical Group.
Joseph Simone said that recent announcements about new hospitals and consolidated facilities are just one aspect of the emerging convenience care trend.
"We are seeing the proliferation of free-standing emergency rooms, healthcare monitoring apps, home health devices, and even classic house calls," said Joe Simone. "All these services are designed to satisfy the growing demand for convenient care."
Simone Development Companies is a fully integrated private real estate investment and development company that acquires and develops healthcare, mixed-use, commercial, industrial, retail and residential properties. Headquartered at the Hutchinson Metro Center, it boasts a portfolio of over seven million square feet throughout the Bronx, Manhattan, Queens, Long Island, Westchester, Orange and Fairfield Counties and New Jersey. With services spanning acquisition, development, construction, finance, asset management, accounting, leasing and property management, Simone Development Companies is set apart by its creatively oriented management team, long-term asset ownership and its pursuit of visionary development.