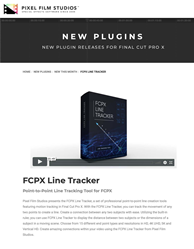 "FCPX Line Tracker brings innovative tracking technology together with point-to-point creation tools to create one of the most comprehensive packages for Final Cut Pro X."
ALISO VIEJA, Calif. (PRWEB) January 08, 2019
Pixel Film Studios presents the FCPX Line Tracker, a set of professional point-to-point line creation tools featuring motion tracking in Final Cut Pro X. With the FCPX Line Tracker, users can track the movement of any two points to create a line. Create a connection between any two subjects with ease. Utilizing the built-in ruler, users can control FCPX Line Tracker to display the distance between two subjects or the dimensions of a subject in a moving scene. Choose from 15 different endpoint types and resolutions in HD, 4K UHD, 5K and Vertical HD. Create amazing connections within a video using the FCPX Line Tracker from Pixel Film Studios.
The FCPX Line Tracker features two built-in trackers so that users can track the movement of any two points in a scene. Once tracked, a line will automatically be created extending from one point to the next. Users can customize the line completely. Create solid lines, colored lines, and lines made out of dotted paths.
There are two ruler presets included in FCPX Line Tracker. The first features dynamic values that adjust to the distance between the two points and the second features fixed values that shrink or expand with the changes made to the line. Adjust the start value, difference between points, digit size, number of digits and more with both presets.
The FCPX Line Trackers contains drop-down menus filled with different point options for both the start and end points of the line. Create lines with different point types or use the same point type on both ends. Choose from circles, squares, arrows, crosshairs, lines, brackets, magnifications, and drop zones for adding custom media.
Use the Ruler preset 1 to dynamically measure the distance between the two subjects. The measurement value will adjust to the difference in size of the line over time. This preset is perfect for measuring how far away something is from a moving subject or showing the distance gap between members of a race.
Established in 2006, Aliso Viejo, California-based Pixel Film Studios is an innovative developer of visual effects tools for the post-production and broadcast community. Their products are integrated with popular non-linear editing and compositing products from Apple FCPX. Apple, the Apple logo, Mac OS X, and Macintosh are registered trademarks of Apple Inc. in the U.S. and/or other countries. All other trademarks and trade names are the property of their respective owners.