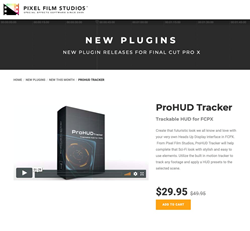 "ProHUD Tracker brings trackable futuristic displays to add stylized flair to any FCPX project."
ALISO VIEJO, Calif. (PRWEB) October 11, 2018
Create the ultimate futuristic look customized Heads Up Display interface in FCPX. From Pixel Film Studios, ProHUD Tracker will help complete that Sci-Fi look with stylish and easy to use elements. Utilize the built in motion tracker to track any footage and apply a HUD presets to the selected scene.
ProHUD Tracker is a motion tracking Heads Up Display title package designed for ease and flexibility. Each preset features customizable style controls to further edit all presets. Most of all ProHUD Tracker comes with a variety of eye-catching sci-fi designs that result in a futuristic look for any production.
Tracking footage is made easy with the included Auto Motion Tracker. Users also have the ability to edit the track or do manual key frame alterations if necessary. Easily track any subject in media and instantly add more a dynamic feel to ProHUD Tracker.
Final Cut Pro X users can add dimension to production by manipulating the easy to use on-screen controls. These controls will determine the scale, position, rotation and more aspects of title elements with the drag of a mouse. In addition to on-screen controls, all other published controls can be found in the inspector window on the right-hand side of the viewer. Because of these controls, creating a graphic in 3D space becomes a simple task.
ProHUD Tracker is designed and custom built for Final Cut Pro X editors and users. Each preset has been hand-crafted in order to be used for all types of Heads Up Display situations. Because of this, it's simple and effective to stylize each preset to the desired media all within Final Cut Pro X.
Established in 2006, Aliso Viejo, California-based Pixel Film Studios is an innovative developer of visual effects tools for the post-production and broadcast community. Their products are integrated with popular non-linear editing and compositing products from Apple FCPX. Apple, the Apple logo, Mac OS X, and Macintosh are registered trademarks of Apple Inc. in the U.S. and/or other countries. All other trademarks and trade names are the property of their respective owners.