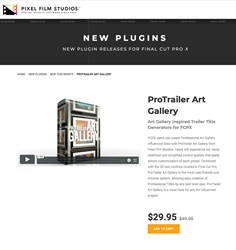 "The next iteration to the ProTrailer series adds stylish and professional trailer titles to Final Cut Pro X with a unique art gallery design."
ALISO VIEJO, Calif. (PRWEB) September 18, 2018
FCPX users can create Professional Art Gallery influenced titles with ProTrailer Art Gallery from Pixel Film Studios. Users will experience our newly redefined and simplified control system that easily allows customization of each preset. Combined with the 3D text controls located in Final Cut Pro, ProTrailer Art Gallery is the most user-friendly and intuitive system, allowing easy creation of Professional Titles by any skill level user. ProTrailer Art Gallery is a must have for any Art influenced project.
ProTrailer Art Gallery includes 30 beautiful Art Gallery themed presets. This uniquely designed plugin features fully editable ext and camera animations, adjustable style controls, as well as 3D text controls all within Final Cut Pro X. Another key feature of this plugin are built in keyframe-less text and camera animations. Furthermore making the editing process of any title sequence extremely simple. Therefore, ProTrailer Art Gallery provides users the ability to create titles for any project at hand.
ProTrailer Art Gallery includes a highly intuitive edit mode, helping FCPX users quickly change the camera and text animations in real-time. Create animations without the need to manually keyframe anything. Combine text animations in conjunction with camera movement to create more dynamic 3D title sequences.
ProTrailer Art Gallery allows users to instantly create & edit gallery influenced 3D titles. Final Cut Pro users can modify environmental elements, text styles, and much more. This plugin works with any style font, and includes a motion blurred option of each preset for added realism. Limitless creative opportunity is available with ProTrailer Art Gallery.
ProTrailer Art Gallery features a new simplified control system located directly inside of Final Cut Pro X. Users of all skill levels will be able to easily edit each preset, all without compromising quality. In addition, users have access to 3D text controls located in Final Cut Pro to edit every part of the text. These controls make ProTrailer Art Gallery the most powerful and intuitive system to date.
Established in 2006, Aliso Viejo, California-based Pixel Film Studios is an innovative developer of visual effects tools for the post-production and broadcast community. Their products are integrated with popular non-linear editing and compositing products from Apple FCPX. Apple, the Apple logo, Mac OS X, and Macintosh are registered trademarks of Apple Inc. in the U.S. and/or other countries. All other trademarks and trade names are the property of their respective owners.