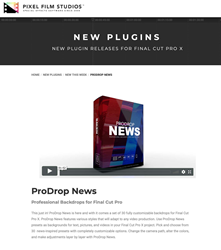 "ProDrop News is the ultimate cornerstone for any news-themed Final Cut Pro X project that makes editing easy!"
ALISO VIEJO, Calif. (PRWEB) January 24, 2019
This just in! ProDrop News is here and with it comes a set of 30 fully customizable backdrops for Final Cut Pro X. ProDrop News features various styles that will adapt to any video production. Use ProDrop News presets as backgrounds for text, pictures, and videos in Final Cut Pro X project. Pick and choose from 30 news-inspired presets with completely customizable options. Change the camera path, alter the colors, and make adjustments layer by layer with ProDrop News.
ProDrop News features 30 designs inspired by different broadcast themes. Choose from backdrops featuring world maps to news stages with a variety of three-dimensional shapes. Each ProDrop preset features unique customization options, allowing Final Cut Pro X users to tweak the look and feel of individual backdrops.
ProDrop plugins are perfect for adding a little extra style to titles and descriptions. ProDrop does not include text but can enhance any scene with little effort. Just place a ProDrop preset underneath text in Final Cut Pro X and enjoy.
Alternatively, use ProDrop plugins to show off logos and media. They are incredibly easy to apply. Just place one behind videos, images, or transparent logos. ProDrop is a great tool for adding extra interest to any scene.
Established in 2006, Aliso Viejo, California-based Pixel Film Studios is an innovative developer of visual effects tools for the post-production and broadcast community. Their products are integrated with popular non-linear editing and compositing products from Apple FCPX. Apple, the Apple logo, Mac OS X, and Macintosh are registered trademarks of Apple Inc. in the U.S. and/or other countries. All other trademarks and trade names are the property of their respective owners.