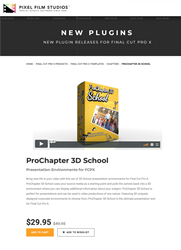 "ProChapter 3D School is the next great iteration of Pixel's animated presentation environments for Final Cut Pro X which includes fun and engaging scenes."
ALISO VIEJA, Calif. (PRWEB) February 05, 2019
Bring new life to video with this set of 3D School presentation environments for Final Cut Pro X. ProChapter 3D School uses source media as a starting point and pulls the camera back into a 3D environment where users can display additional information about a subject. ProChapter 3D School is perfect for presentations and can be used in video productions of any nature. Featuring 30 uniquely designed corporate environments to choose from, ProChapter 3D School is the ultimate presentation tool for Final Cut Pro X.
ProChapter 3D School features 30 presentation environments made exclusively for Final Cut Pro X. This gives users a wide selection of options to use in production. Each ProChapter 3D preset is ready-to-use in Final Cut Pro, but can be customized and adapted to any project.
ProChapter 3D allows users to adjust where the camera lands to display text and media. Set the End Position and Rotation by adjusting the values on the X, Y and Z axises. Increase the Angle of View to make the scene appear more distant and increase the intensity of angles. Turn on the Handheld Cam effect to simulate shaky cam.
ProChapter 3D comes with a drop-down layout menu to easily select a preset layout for Left, Right, Top, Bottom and Center aligned media. After setting the layout, make further adjustments by tweaking the rotation of the media and the position/rotation of the text.
Each preset includes a set of color controls that have the ability to change the color of the background, foreground and rear objects. Just find the Hue/Saturation controls or find the Tint color pickers included in each respective section to easily change colors.
Established in 2006, Aliso Viejo, California-based Pixel Film Studios is an innovative developer of visual effects tools for the post-production and broadcast community. Their products are integrated with popular non-linear editing and compositing products from Apple FCPX. Apple, the Apple logo, Mac OS X, and Macintosh are registered trademarks of Apple Inc. in the U.S. and/or other countries. All other trademarks and trade names are the property of their respective owners.