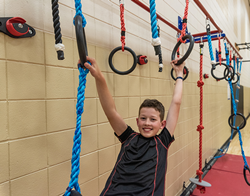 We're excited to add to this popular product line that captivates youth and uniquely develops fitness.
MINNEAPOLIS (PRWEB) August 27, 2019
The popularity of ninja course television shows has grown exponentially in recent years and viewers at home enjoy watching contestants attempt to complete different obstacles. Many at-home viewers have become inspired to try it for themselves. In fact, there are currently about two-hundred ninja-warrior style gyms across the United States where fans can test out their ninja-skills, according to the website MudRun Guide. Fans of the shows even make their own ninja courses at their homes, schools and other youth-serving agencies. These ninja-courses also serve as a popular and unique inspiration for birthday parties and other events.
To complement the ever-increasing rise in popularity of these ninja obstacle shows, Everlast Climbing has developed brand-new "ninja-style" products that guarantee to keep children of all ages engaged and having fun, while also participating in beneficial physical activity. "Our new Safari Ninja Circuit provides more opportunities for children to be active in innovative ways," stated Tim Sudeith, General Manager of Everlast Climbing. "We're excited to add to this popular product line that captivates youth and uniquely develops fitness."
The Safari® Ninja Circuit comes in three different packages: small, medium and large. Each package contains a unique mix of fun equipment that will engage and challenge kids of all ages. The courses are versatile and can be arranged in a number of different ways. Kids, tweens, and teens will all find these courses to be an engaging challenge that promotes fitness in an enjoyable way.
The Safari Ninja Circuits are scaled-down versions of obstacles seen in ninja-course television shows and have been modified to fit the abilities of Elementary through High School aged children. Through each Safari Ninja Circuit, children will develop valuable skills as well as develop a love for fitness. The Safari Ninja Circuit is the perfect way to get kids off the couch and active like the ninja warrior athletes they admire on TV.
About Everlast Climbing
Everlast Climbing is committed to improving youth fitness with dynamic and innovative products that engage children and inspire physical activity. The company is headquartered in Fridley, MN, and is a PlayCore company. More information is available about Everlast Climbing at http://www.everlastclimbing.com.