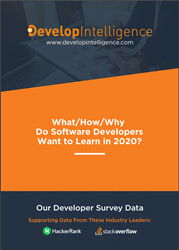 24% of developers learn how to use a technology for an upcoming project or to fulfill a current or future business needs.
DENVER (PRWEB) November 29, 2019
What if there was a way you could unlock your software developers' motivation to learn? (Hint: There is.) What if you could find out everything you need to know to create the most effective learning environment for them in your company? (Another hint: You can.)
What if there were actionable data to help identify which programming languages developers want to learn most and why? Or data that could illuminate how to retain your extremely valuable talent? DevelopIntelligence's just released 2020 Developer Survey report answers these questions, offers insight on how to promote deep knowledge retention for your technical talent, and more.
The best software developers are constant learners and self-teachers. They have to stay ahead of the rapid, constant changes happening in technology. For instance —
This report offers L&D and business leaders detailed information on which programming languages and tools drive this key technical talent cohort's desire to learn.
A meta compilation of fresh data and analysis, the report digs into the how and why behind software developers' preferences for specific learning strategies. Learning leaders can build technical training that not only satisfies developers' curiosity, it deepens the knowledge base they need to advance business goals in today's leading organizations. It's the ultimate guide to determine how developers want to learn – and how they'll use that learning to advance their careers.
The report combined original survey data from DevelopIntelligence as well as survey results and feedback from tens of thousands of respondents and analysis from HackerRank and StackOverflow, resulting in our industry's most comprehensive survey on developer trends.
"Learning and training leaders crave reliable information on how software developers think, how they learn. They need to know what kinds of culture and development-rich environments promote sustained, enjoyable, and useful learning in the workplace. It's the best way to create a competitive advantage," said Kelby Zorgdrager, president and CEO, DevelopIntelligence. "This new research report mines the data from the developers themselves, which is needed to create the most viable learning strategies and programs."
To get the report click here.
DevelopIntelligence leads technical and software development learning programs for Fortune 5000 companies. We provide learning solutions for hundreds of thousands of engineers for over 250 global brands.