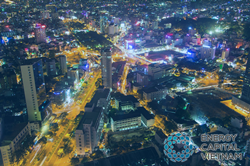 JUPITER, Fla. (PRWEB) May 08, 2019
Innovations with Ed Begley, Jr. will examine breakthroughs in sustainable energy solutions in an upcoming episode that is scheduled to broadcast 3Q/2019. Check your local listings for more information.
With a population of nearly 100 million, or twice that of South Korea, Vietnam has consistently averaged 6-percent annual GDP growth over the last two decades. As one of the fastest growing economies, electricity consumption is expected to require the development of an additional 90 GW of generation capacity by 2030.
Focusing on Energy Capital Vietnam (ECV), a Vietnam-focused development and asset management company, Innovations will explore how ECV is helping to bring sustainable power to Vietnam in the most efficient and effective manner possible.
"We are excited to participate in the series and honored to highlight the rapid liberalization of the Vietnamese economy. Vietnam is open for business and ECV has established first-mover advantage for a fully private and integrated LNG-to-power project," said David Lewis, CEO. "We're focused on the demand side of the LNG supply equation."
Viewers will learn about direct investment opportunities across energy infrastructure and how ECV aligns strategic international partners with exclusive deal access throughout Vietnam to create stable investment opportunities.
The show will also look at ECV's dedication towards refinement of the Master Power Development Plan to reflect greater integration of clean energy solutions into domestic long-term plans.
About Energy Capital Vietnam:
A veteran led company, ECV was founded in 2015 with a vision to build a platform for direct investment into energy and infrastructure opportunities in Vietnam. Recognizing the transitioning global energy landscape, the Company was created to export energy security to Vietnam through US investment, trade and development. The comprehensive ECV investment structure streamlines private capital with strategic partners to create world-class and capital efficient joint ventures that deliver operational excellence.
For more information, visit: http://www.ecvholdings.com.
About Innovations and DMG Productions:
Innovations, hosted by award winning actor Ed Begley, Jr., is an information-based series geared toward educating the public on the latest breakthroughs in all areas of society. Featuring practical solutions and important issues facing consumers and professionals alike, Innovations focuses on cutting-edge advancements in everything from health and wellness to global business, renewable energy, and more.
Backed by experts in various fields, and a team dedicated to education and advancement, DMG Productions consistently produces commercial-free, educational programming on which both viewers and networks depend.
For more information visit http://www.InnovationsTelevision.com or contact Brett Ferrigan at (866) 496-4065.