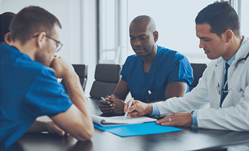 JUPITER, Fla. (PRWEB) October 15, 2021
Scheduled to broadcast 1Q/2022, an upcoming episode of Advancements with Ted Danson will explore how targeted education is helping to foster integrity and excellence among medical publication professionals.
Medical publication professionals collaborate with medical researchers in publishing clinical study data and related medical information that can affect health care decision-making and clinical judgment, as well as shape future research. At the same time, medical research and publishing in medical journals have undergone scrutiny from a range of external stakeholders to ensure that the highest levels of scientific and professional integrity are achieved.
In this segment, Advancements will explore how the International Society for Medical Publication Professionals (ISMPP) actively works to establish and maintain professional standards and provide education to progress adherence to standards and best practices. The segment will also address ISMPP's role in improving access to published clinical research among health care providers, patients, and caregivers.
ISMPP President and CEO Robert J. Matheis remarked, "In our current environment, medical publication professionals are faced with an unprecedented responsibility to work diligently with our collaborators in ensuring that medical research is accurately represented and broadly available in medical journals. ISMPP provides a foundation to guide the medical publishing profession and support optimal patient care."
In addition, viewers will learn about ISMPP's Certified Medical Publication Professional™ (CMPP™) program, which establishes a formal credential to validate a medical publication professional's skills, expertise, and integrity in the profession. Qualified candidates must pass a formal exam to demonstrate knowledge of, and advocate adherence to, best-practice standards across the industry, as well as meet ongoing recertification requirements.
"We look forward to exploring ISMPP's mission to advance the medical publication profession and to learning how it is doing so by enhancing integrity and transparency in medical publications; improving standards and best practices; and fostering education, advocacy, and professional collaborations," said Tamara Philips, producer for the Advancements series.
About International Society for Medical Publication Professionals:
The International Society for Medical Publication Professionals (ISMPP) is a not-for-profit organization established in 2005, that exists to advance the medical publication and communication professions globally. ISMPP comprises more than 2,000 members worldwide, with representation from all stakeholders involved in the publication and communication of medical research. For more information, visit: http://www.ismpp.org.
About Advancements and DMG Productions:
The Advancements series is an information-based educational show targeting recent advances across a number of industries and economies. Featuring state-of-the-art solutions and important issues facing today's consumers and business professionals, Advancements focuses on cutting-edge developments, and brings this information to the public with the vision to enlighten about how technology and innovation continue to transform our world.
Backed by experts in various fields, DMG Productions is dedicated to education and advancement, and to consistently producing commercial-free, educational programming on which both viewers and networks depend.
For more information, please visit http://www.AdvancementsTV.com or call 866-496-4065.