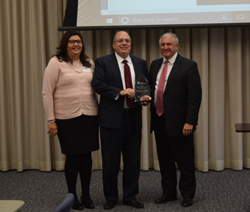 "I'm grateful for my experience in the Marine Corps, and for the team at DeVil-Tech. They serve our government and industry partners with excellence."- Dr. Edward M. DeVilliers
STAFFORD, Va. (PRWEB) November 15, 2018
Dr. Edward M. DeVilliers received the prestigious honor of being named 2018 University of Mary Washington Center for Economic Development Veteran Small Business of the Year on Thursday, November 14. This award recognizes DeVilliers' accomplishments as a business owner who has shown a "commitment to [his] enterprise, industry leadership, proven business success, and dedication to community."
DeVilliers' is the president and founder of DeVil-Tech, a systems and software engineering consulting firm located in Stafford, Virginia. "It's an honor to have served this country in the military and to be recognized as the 2018 Veteran Small Business of the Year," says DeVilliers, "I'm grateful for my experience in the Marine Corps, and for the team at DeVil-Tech. They serve our government and industry partners with excellence."
Mr. Carl Knoblock of the SBA Richmond District Office and Delegate Bob Thomas were the keynote speakers at the awards ceremony. DeVilliers was also acknowledged by numerous regional dignitaries at the event including the Stafford County Economic Development, past recipients and over 50 veterans.
DeVilliers' nomination will be advanced to the Virginia Veteran Entrepreneur of the Year recognition. Winners of that award are recognized at an event in June and are memorialized on an urn at the Virginia State Capitol.
About Edward M. DeVilliers, Ph.D.
Dr. DeVilliers, President and Founder of DeVilliers Technology Solutions LLC (DeVil-Tech), a minority, Veteran-owned company focused on systems and software engineering consulting. Dr. DeVilliers is the child of Cuban parents who emigrated to the United States. Intent on giving back to the country that gave his family freedom and opportunity, he started his career as a Marine Corps officer after graduating from the United States Naval Academy in 1989. After leaving the Marine Corps in 2000, Dr. DeVilliers took lead engineering positions within both government and industry until founding DeVil-Tech in 2012.
For more information about DeVil-Tech visit the website at https://devil-tech.com or connect with them at Facebook/DeVilTechSolutions, Twitter/https://twitter.com/DeVilTechSolns, and LinkedIn.com/devilliers-technology-solutions-llc.