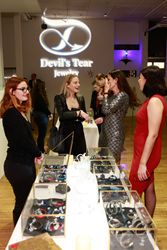 NEW YORK (PRWEB) December 19, 2018
Luxury unisex jewelry brand, Devil's Tear, hosted a captivating event on Friday, December 14th to celebrate its debut at a private launch event in New York City. Guests had the opportunity to mingle in beautiful modern space, which features stunning floor-to-ceiling windows overlooking the Hudson River. Attendees tried on and shopped the alluring and elegant designs handcrafted in Bali with the utmost level of quality, imbued with bold colors and conflict-free precious stones. The sensual collection introduced several staple lines of Devil's Tear's, suitable for current and upcoming spring seasons, with simple yet elegant lines.
The new luxury brand creates original jewelry for both men and women with ethical practices at its core. Most of the collection, which before the launch has been focused on bracelets, features a striking variety of exotic materials set in silver and gold. "The new 2019 year will be both very busy and exciting as we are working on developing new lines and adding few unique and luxurious features to continue surprise and delight our clients", the founders have mentioned.
All of Devil's Tear designs aim to capture the passions of its wearers and serve as a one-of-a-kind bejeweled talisman that can be worn from the office to after-hours with ease, and polish, showcasing individual style. The seductive pieces were inspired by the worldwide travels of both founders with a focal point of creating a fine jewelry line that can be original, trendsetting yet accessible and wearable for all occasion. Devil's Tear is devoted to continuing design pieces that celebrate life and personal passions through lasting love of great jewelry. The collection is now available for sale on http://www.DevilsTear.co with exciting new models being added weekly.
Highlights of the event included a flowing presentation of some of the limited pieces with models of all ages, genders, and backgrounds, chosen to reflect and underline the inclusive ethos of the brand. Following the presentation, was an impressive performance by Medea, a young multi-faceted artist from NYC who made a dramatic entrance with a snake draped across her shoulders. Guests enjoyed dry rose wine by Wagner Vineyards and signature cocktails and savory hors d'oeuvre especially designed for Devil's Tear launch by celebrity chef, Chris Nirschel. Known as a 'culinary bad boy,' Nirschel demonstrates his creative and exciting flavors at culinary competitions that include Food Network Season 7 (Finalist), Chopped All-Stars and MTV House of Food which he has also hosted.
Devil's Tear will support Life Preserver's Project by donating a portion of its sales, providing much-needed funds to the non-profit organization that aims to raise awareness for the victims of Human Trafficking both locally and internationally through its community of artists. The social outreach is driven by the co-founders Nataly Glushko and Natalie Solak with the help of Business Operations Director Nikki Samuels. Devil's Tear long-term mission focuses on continued work with several philanthropy causes as part of its overarching support to their local communities.
Images: LINK
Photo Credit: Shaun Mader