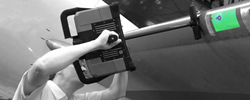 dentCHECK was DHL-Express' tool-of-choice for dent-mapping because of the great efficiency gains it delivers
KONSTANZ, Germany & RANCHO CUCAMONGA, Calif. (PRWEB) November 05, 2018
DHL-Express, one of the world's leading logistics companies, has embraced the use of 8tree's dentCHECK tool. dentCHECK is the world's only handheld portable, completely wireless 3D scanner tool with integrated AR that is specifically designed for the aviation maintenance industry. It is now used by the world's leading commercial, cargo and defense MROs. Delivering real-time 'go/no-go' answers, the tool significantly reduces dent-mapping and reporting times, compared to traditional manual methods that use depth-gauges and calipers.
"We decided on dentCHECK because of the great efficiency gains it can deliver to a busy MRO operation such as ours", said Ralf Noether, Director Maintenance, European Air Transport Leipzig (EAT-Leipzig), a division of DHL-Express. "The one-button operation and instant 'go/no-go' answers empower our technicians to confidently make decisions on-the-spot, thereby improving aircraft turn-around-time. This made dentCHECK our tool-of-choice when searching for a better dent-mapping solution."
"We are excited to welcome DHL-Express to the rapidly growing global airline/MRO community of dentCHECK users", said Arun Chhabra, CEO, 8tree. "It is rewarding to see dentCHECK's user-centric design, intuitive 1-button operation and AR-enabled results empowering users of all skill levels with 'go/no-go' answers, not just data. We look forward to enabling DHL-Express' operations and having them experience 8tree's exceptional customer service. At this week's MRO Asia 2018 in Singapore, we will share a sneak-peak into several new capabilities that expand the dentCHECK eco-system and enhance operational efficiency for airlines and MROs."
Over the past two years, Airbus has published multiple approvals in its Tool Equipment Manuals (TEMs) for the express purpose of dent-mapping on metallic aero-structures and composite cabin floor-boards. dentCHECK also expedites blend-out remaining thickness measurement of uniform thickness panels as per procedures outlined in Airbus' SRM 51-11-00 and SRM 51-11-13. During this same period, another major aircraft OEM has published a Service Letter recognizing the use of 3D scanning tools, such as dentCHECK, for dent-mapping on all of its commercial aircraft family types.
Multi-OEM acceptance of dentCHECK has propelled the tool's adoption by airlines/MROs globally. Detailed case-studies published by TAP-M&E and easyJet, as well as news from Airbus' Flightline and Zeppelin, demonstrate that dentCHECK drastically reduces inspection and reporting times by up to 90%. As such, it empowers aircraft maintenance operations with first-of-its-kind objective and consistent dent-inspection and blend-out results. This shortens aircraft Turn-around-Time (TaT), which further reduces lost revenues and very directly improves operational efficiency for airlines. dentCHECK enhances safety through an improved understanding of airframe reliability.
For more information and to see dentCHECK in action, visit 8tree (Booth 341) at MRO Asia, Nov 6-8 in Singapore, and always at http://www.8-tree.com.
About 8tree
8tree makes 3D optical surface inspection tools that solve chronic problems for multiple industries. 8tree's products empower every operator – from mechanics on the floor, to engineers in the lab – with precision measurement, portability and performance. With its patented user-centric product design, instant 'go/no-go' answers and zero-learning curve, 8tree is committed to making precision 3D scanning more broadly accessible – technically and commercially.