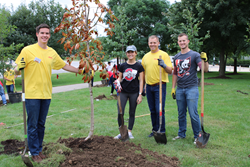 WESTERVILLE, Ohio (PRWEB) September 12, 2018
DHL Supply Chain, the Americas' leader in contract logistics and part of Deutsche Post DHL Group, and The Ohio State University partnered to plant 30 trees near the Schottenstein Center. DHL Supply Chain made a contribution to purchase and care for 30 new trees to help support urban forestry in the Columbus area. DHL Supply Chain also purchased and donated 1,000 tonnes of carbon credits for Ohio State to contribute to the university's own carbon reduction goals. Ohio State matched DHL's donation by purchasing an additional 1,000 tonnes of carbon credits.
A single carbon credit is equal to one metric ton of CO2 removed from the air. The 30 newly planted trees and credits purchased by DHL and Ohio State reduce greenhouse gases equivalent to taking 400 passenger vehicles off the road for one year. Ohio State will use these credits to offset a portion of the University's annual greenhouse gas emissions, such as those from its own transport fleet. The program is being facilitated by North Carolina-based Urban Offsets.
"We have collaborated with Ohio State for years as we recruit significant talent from their programs. This new commitment helps us both make a difference in the community and the environment by planting trees together on campus," said Val Hoge, COO, DHL Supply Chain North America. "The tree planting builds on our company's GoGreen mission of planting a million trees each year by the year 2050. In the process, we generate awareness of climate change and give supply chain experts and students an opportunity to connect."
DHL Supply Chain and Ohio State have a long-standing relationship where DHL provides internships, guest lectures, teaches courses, offers students site tours of local facilities and fills two seats on Ohio State's supply chain Center of Excellence board. Since the Fall of 2015, DHL Supply Chain has hired 79 interns and 78 full-time Ohio State students as full-time employees.
This tree planting provides an opportunity for students from Ohio State's Fisher College of Business and the Center of Operational Excellence (COE) to learn more about DHL and interact with DHL Supply Chain executives and associates.
"This event is the type of corporate partnership that benefits both our students and the greater Ohio State community," said Kate Bartter, director of the Ohio State Office of Energy and Environment. "We're pleased to partner with DHL Supply Chain and Urban Offsets to further support our university sustainability goals, specifically to increase the ecosystem value of our campus lands, which helps to reduce our carbon footprint."
Urban Offsets helps corporations and universities execute their sustainability missions on a local level. "University students want a role in making their communities more sustainable," said Shawn Gagné, CEO and founder of Urban Offsets. "By planting trees with Ohio State students and offsetting Ohio State emissions, DHL Supply Chain and Ohio State are champioining this new and innovative model."
DHL Supply Chain's GoGreen program has delivered an average reduction of 3 percent in carbon dioxide emissions, year over year, for every mile travelled and every square meter of space used worldwide for its customers. For more information about DHL Supply Chain's GoGreen Solutions, click here.
# # #
Media Contact:
Nicole Porter, DHL Supply Chain
Phone: 614-865-8437 E-mail: nicole.porter@dhl.com
DHL – The logistics company for the world
DHL is the leading global brand in the logistics industry. Our DHL family of divisions offer an unrivalled portfolio of logistics services ranging from national and international parcel delivery, e-commerce shipping and fulfillment solutions, international express, road, air and ocean transport to industrial supply chain management. With about 360,000 employees in more than 220 countries and territories worldwide, DHL connects people and businesses securely and reliably, enabling global trade flows. With specialized solutions for growth markets and industries including technology, life sciences and healthcare, energy, automotive and retail, a proven commitment to corporate responsibility and an unrivalled presence in developing markets, DHL is decisively positioned as "The logistics company for the world".
DHL is part of Deutsche Post DHL Group. The Group generated revenues of more than 60 billion euros in 2017.
About The Ohio State University
Ohio State University is a dynamic community of diverse resources, where opportunity thrives and where individuals transform themselves and the world. Founded in 1870, Ohio State is a world-class public research university and the leading comprehensive teaching and research institution in the state of Ohio. With more than 66,000 students (including 60,000 in Columbus), the Wexner Medical Center, 15 colleges, 80 centers and 200 majors, the university offers its students tremendous breadth and depth of opportunity in the liberal arts, the sciences and the professions.
About Urban Offsets
Urban Offsets is the global leader in hyper-focused sustainability. We help companies and universities reduce their environmental impact by investing in sustainability projects around the world and directing profits into local projects that build climate resilient neighborhoods. Since 2017, more than 80,000 metric tons of CO2 emissions have been offset and 12,000 trees planted in at-risk communities around the country. Find a project close to you on the Urban Offsets Registry (http://registry.urbanoffsets.co/).
# # #