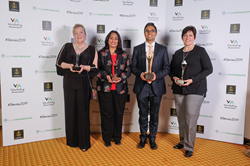 MIAMI (PRWEB) March 01, 2019
DHL Global Forwarding, the air and ocean freight specialist of Deutsche Post DHL Group, announced today its Americas Implementation team has been awarded a Silver Stevie® for Best Return on Customer Service Investment and a Bronze Stevie® for Best Customer Satisfaction Strategy. The U.S. Customer Service team received a Silver Stevie® for Best Customer Feedback Strategy. Both teams were presented with their awards at the 13th Annual Stevie® Awards for Sales & Customer Service. The Silver and Bronze awards recognize DHL Global Forwarding for an Americas newly created Customer Centric Onboarding program including an innovative tool. The Silver award recognizes DHL Global Forwarding U.S. for the development of a Mystery Shopping program which helps improve the services offered during the rate quote process.
"We take great pride in the quality of our people and it's rewarding to see them recognized for their outstanding efforts in providing exceptional customer service and dedication to our customers," said David Goldberg, CEO, DHL Global Forwarding, U.S. "Their hard work has a profound impact on the strength of our business and is helping us in our mission to be the leading freight forwarder."
The US DHL Global Forwarding Customer Implementation team was honored for establishing an internal small business customer onboarding program guided by DHL Global Forwarding Six Sigma Gold and Black Belt equivalent certified champions using a Greenfield approach. They also worked hand-in-hand with the IT department to create a Customer Centric Onboarding tool, allowing for the end-to-end process to be managed in one portal by multiple users, providing greater visibility and eliminating numerous e-mails with attachments.
"Customer centricity is not a new concept at DHL Global Forwarding, but with our new Customer Centric Onboarding program, we have an easier and more efficient way to introduce small business customers to our industry and company," said Julie Van Dyke, Head of Customer Implementation, DHL Global Forwarding, U.S. and Americas. "Receiving these awards recognizes our efforts and invigorates us to continue pushing forward with this and other projects that make our customer onboarding efforts seamless."
The U.S. DHL Global Forwarding Customer Service team successfully developed a Mystery Shopping program which helps DHL understand the customer experience and proactively manage it with first-hand insight. Members of the Customer Service team and U.S. management launched the program analyzing various customer touch points and established best practices to be used across the U.S.
"Through our Mystery Shopping program, we have implemented changes in our rate quotes process, and this has helped us use customer feedback more effectively which improves our customers' experience and satisfaction," said Jim Underhill, Head of Customer Service DHL Global Forwarding U.S. "The program became so successful it was recognized across our DHL network and implemented in various countries around the world, including our global headquarters in Germany."
DHL Global Forwarding has been awarded with various Gold, Silver and Bronze Stevie® Awards throughout the years including: Customer Service Complaints Team of the Year (2015); Innovation in Customer Service (2014); Customer Service Training Team of the Year (2013); Best Use of Technology in Customer Service and Innovation in Customer Service (2012).
DHL – The logistics company for the world
DHL is the leading global brand in the logistics industry. Our DHL family of divisions offer an unrivalled portfolio of logistics services ranging from national and international parcel delivery, e-commerce shipping and fulfillment solutions, international express, road, air and ocean transport to industrial supply chain management. With about 360,000 employees in more than 220 countries and territories worldwide, DHL connects people and businesses securely and reliably, enabling global trade flows. With specialized solutions for growth markets and industries including technology, life sciences and healthcare, energy, automotive and retail, a proven commitment to corporate responsibility and an unrivalled presence in developing markets, DHL is decisively positioned as "The logistics company for the world".
DHL is part of Deutsche Post DHL Group. The Group generated revenues of more than 60 billion euros in 2017.