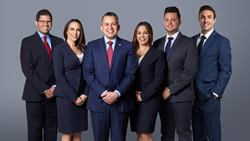 FORT LAUDERDALE, Fla. (PRWEB) October 29, 2021
Florida is well known as the nation's hotspot for probate, largely due to its aging population and as the primary destination for retirees from around the world. As one might expect, the state is flooded with countless attorneys and law firms providing probate and estate planning services. Since a probate attorney is required by law in Florida during any probate proceedings, thousands of Floridians every year go through the process of finding a probate attorney with the proper expertise needed to settle and plan out their estates.
Plantation based probate attorney David Di Pietro and his team of attorneys have seen every sort of probate and estate case conceivable, including situations involving disputes and litigation. In fact, cases involving probate are one of the firm's primary focuses since its founding over a decade ago. The firm handles a wide variety of probate related matters, including the drafting of wills, setting up of trusts, legal counsel for asset protection, and standard matters such as estate planning and administration.
Since there is such a large number of probate attorneys operating in Florida and specifically the Ft. Lauderdale area, many Floridians find the process of choosing the right attorney a difficult task. Luckily, there are resources available to assist in the selection process. One of the best and most popular is Expertise.com, which carefully picks the top experts across over 200 different professional services throughout the country.
Employing a team of veteran researchers, Expertise.com is able to comb over approximately 60,000 different businesses on a monthly basis in order to discover the top professionals in every industry and geographical area of the country. Using a stringent selection process, they sort through a combination of accreditations, awards and licenses, as well as review other factors such as service capability assessments and data reviews. On top of this, they even employ the use of undercover mystery shoppers to ensure they are truly picking the best of the best professionals in each industry.
After conducting this detailed analysis of the top probate firms in the Plantation and greater Ft. Lauderdale area, Di Pietro Partners was selected as one of the best local firms specializing in probate and estate law, earning an A+ rating for both reputation and professionalism. This should come as no surprise however, based on the extensive experience of David and his team for professionalism and their well earned reputation over many years for providing exceptional probate and legal services to Floridians.
Di Pietro Partners specializes in legal matters related to probate and trusts. The firm also specializes in a number of other practice areas including medical malpractice litigation and defense, healthcare law, and other matters related to general litigation.
To learn more about Di Pietro Partners and the legal services offered at their Fort Lauderdale based practice, visit the firm's website below.
https://ddpalaw.com/