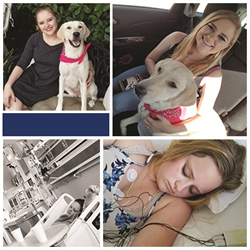 Ashlyn is young, smart, and tough, so far she's had to face many challenges on her own, and we want to help get her a service dog to assist her and be her companion as she deals with these ongoing challenges
Miami, FL (PRWEB) December 14, 2016
ProVest Insurance Group, an interstate firm offering asset protection and financial planning services to communities in Miami and other regions throughout the country, is planning a charity drive to help Ashlyn Murray, a young local girl struggling with Type I Diabetes.
Since she was 14 years old, Ashlyn Murray has had to check her blood sugar a dozen times a day. Type I Diabetes, as well as several other health challenges related to her condition, prevents Ashlyn from enjoying the things that many teens take for granted. This charity event will help raise money to provide Ashlyn with a service dog that can assist her with the many health situations she will face for the rest of her life.
"Ashlyn is young, smart, and tough, so far she's had to face many challenges on her own, and we want to help get her a service dog to assist her and be her companion as she deals with these ongoing challenges," says Jay Adkins, founder and executive director of the ProVest Insurance Group.
The ProVest team is working to share Ashlyn's story with communities in and around the Miami area by connecting with local families, associates, and business owners over social media channels and an email update system. Future efforts to publicize this charity drive will include a full page feature article in "Our Hometown," a multi-state online magazine hosted by ProVest Insurance: http://www.provestinsurance.com/Our-Hometown-Magazine_10.
ProVest Insurance Group is one of the most active members of a national charity support initiative called "Agents of Change." As proud members of this group, the ProVest team has assisted nearly two dozen notable charities over the last two years, and plans to continue working regularly with charitable causes in the Miami region.
Everyone who wishes to be part of the charity drive to help pay for a service dog for Ashlyn Murray is personally invited by the ProVest Insurance team to follow this link and take action to further the cause: http://www.provestinsurance.com/A-Friend-to-Save-Ashlyns-Life_34_community_cause. The extensive list of previous charitable organizations and nonprofits assisted by the ProVest Insurance team can be reviewed from the firm's Community Causes list, located here: http://www.provestinsurance.com/community-cause?page=1.
About ProVest Insurance Group
ProVest Insurance Group's mission as a team is to provide the best insurance and financial services in the industry. Their number one job is to protect the current assets clients have worked so hard for, and to help them invest so they can retire with the right amount of money. ProVest's success is measured by customer satisfaction and the value they bring. The capable agents at ProVest can be easily reached at 1-855-298-7427.