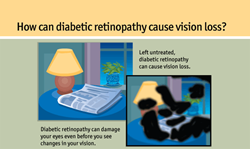 Over half a million diabetics with the background form of diabetic retinopathy develop diabetic macular edema (DME), threatening their fine vision, and their ability to read and drive.
Hicksville and Hauppauge, NY (PRWEB) March 03, 2015
DME, a leading cause of vision loss in diabetic patients, is a condition in which microvascular damage from diabetes leads to leakage in the central portion of the retina, the macula. This causes blurring and loss of vision, and without treatment can lead to legal blindness. The ILUVIEN implant is delivered as an injection, administered during an office visit. The medication is slowly released over a period of up to three years, suppressing inflammation, a key factor in DME. On average, over 28% of patients receiving the medication demonstrate three or more lines of improvement in vision and less leakage over the first two years.
According to James M. Maisel, M.D., Chairman of the Retina Group of New York and a vitreoretinal surgeon, "Laser treatments and vitreous surgery have nearly eliminated the blinding complications of proliferative diabetic retinopathy for decades. However, over half a million diabetics with the background form of diabetic retinopathy develop diabetic macular edema (DME), threatening their fine vision, and their ability to read and drive. Precise focal laser treatment for DME typically only slowed visual loss. In 2010, Lucentis®, an anti-VEGF intravitreal injection was approved for treatment of DME and quickly became the standard of care, stabilizing or improving vision two lines in two years in about 1/3 of patients but often requiring monthly injections. This was followed by Eylea® , another anti-VEGF injection that may offer a slight advantage in patients with poor vision but frequent long term treatment is also required. Ozurdex®, a FDA approved dexamethasone biodegradable implant also has proven helpful for DME for treatment of DME. Its mechanism of action is different from the anti-VEGF treatments and it may act in concert for challenging cases with duration of action of up to six months. Iluvein has the longest duration of action, up to 3 years, and appears to be effective especially in severe or long-standing cases of DME. While not suitable for all patients with DME, it is appropriate to consider Iluvien for non-glaucomatous patients with DME, anticipating or after cataract surgery, and in patients who have not had a prior steroid related intraocular pressure response."
Rodney P. Coe, M.D., an associate retinal specialist with the Retina Group of New York, states that, "Our group has experience with over 20,000 intravitreal pharmacologic injections. Iluvien is administered in the eye during routine office visits and may prove to be safe and effective in selected cases. Diabetic macular edema involves complex mechanisms, and having an additional treatment option broadens our ability to control this condition."
For more information about Iluvien treatment for DME, or to schedule a consultation with the Retina Group of New York, please call 516.939.6100 or 631-273-1818 or visit us at http://www.rgony.com. An NIH video, "Diabetic Retinopathy" can be viewed on YouTube.
About The Retina Group of New York
The Retina Group of New York is composed of Board Certified Ophthalmologists with additional subspecialty training in vitreous and retinal surgery and medical retinal diagnosis and treatment. The group provides eye care for patients with retinal problems such as diabetic retinopathy, macular degeneration, retinal vascular disease, retinal detachments, macular pucker, macula holes, surgical complications, uveitis and second opinions. Members of the group holds staff privileges at seven area hospitals, teaching appointments and served as a Corporate Advisory Board member for the Foundation of the American Academy of Ophthalmology (AAO), the Juvenile Diabetes Foundation Medical Advisory Board and the AAO Instrument and Device, and Low Vision Committees. They have received research grants from the U.S. Public Health Service and the National Institute of Health and represented the National Society to Prevent Blindness at the ANSI Z-80 committee helping to establish many ophthalmic industry standards. Dr. Maisel serves on the Medical Advisory Board of Genentech, Regeneron, Allergan and Alimera Sciences, Inc. and serves as co-editor of the Journal of Diabetes Science and Technology Section on Big Data and Diabetes.