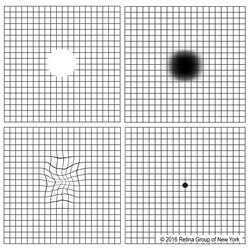 Every 11 seconds someone is diagnosed with diabetes. The fact is, nearly 30 million adults and children in the United States have diabetes—nearly 10 percent of the population."
New York, NY (PRWEB) February 10, 2017
The American Diabetes Association of Greater New York and the Retina Group of New York proudly announce the 2017 EXPO being held on March 11, 2017, in the North Wing of the Jacob Javits Convention Center from 10am to 4pm.
The Retina Group of New York, a leading Long Island group of vitreoretinal physicians, will be a presenting sponsor. James M. Maisel, MD, Founder and CEO of the Retina Group of New York will be speaking on "Advances in Diabetic Retinopathy Prevention, Diagnosis and Treatment." This free community event will feature complimentary health screenings, healthy cooking demonstrations from celebrity chefs, exercise tips from nutrition and fitness experts, access to healthcare providers, multilingual presentations regarding diabetes prevention, multicultural community areas, a living-with-type 1 diabetes area, and a diabetes-goes-digital area.
"The Retina Group of New York is committed to raising awareness about the need for regular screening for all diabetic patients for diabetic retinopathy, and in the prevention, diagnosis and treatment of diabetic retinopathy. In addition to faster and more accurate diagnosis of diabetic retinopathy, we are not only able to prevent blindness in almost all patients with laser and vitreous microsurgery, we can often improve vision with newer FDA approved medications," said Dr. Maisel. "We are proud to serve as a presenting sponsor of the American Diabetes Association EXPO and to help reduce the prevalence of this preventable disease."
More than 10,000 attendees are expected from the Greater New York region. The EXPO aims to attract families affected by diabetes as well as those interested in learning how to live healthier, active lifestyles and changing the future of diabetes.
"Every 11 seconds someone is diagnosed with diabetes," said James Sheridan, Regional Vice President at the American Diabetes Association. "The fact is, nearly 30 million adults and children in the United States have diabetes—nearly 10 percent of the population. That percentage is even higher in New York City, reaching 14% in the African American and Latino population. And shockingly, many do not even know that they have the disease. That is why screening is so important."
Free, early registration is available at http://www.diabetes.org/exponyc
About the American Diabetes Association
The American Diabetes Association is leading the fight to Stop Diabetes® and its deadly consequences and fighting for those affected by diabetes. The Association funds research to prevent, cure and manage diabetes; delivers services to hundreds of communities; provides objective and credible information; and gives voice to those denied their rights because of diabetes. Founded in 1940, the Association's mission is to prevent and cure diabetes, and to improve the lives of all people affected by diabetes. For more information, please call the American Diabetes Association at 1-800-DIABETES (1-800-342-2383) or visit diabetes.org. Information from both of these sources is available in English and Spanish.
About The Retina Group of New York
The Retina Group of New York has provided tertiary vitreoretinal care to patients in Nassau and Suffolk Counties since 1986 at its offices in Hicksville and Hauppauge. Both locations are fully equipped with in-office laser capabilities, cutting-edge diagnostic equipment, and integrated electronic records. The group holds staff privileges at eight area hospitals and teaching appointments at the Hofstra Northwell School of Medicine, North Shore University Hospital, and NuHealth Nassau University Medical Center. The practice is limited to medical and surgical retinal problems. These commonly include diabetic retinopathy, macular degeneration, retinal vein occlusion, retinal detachment, macular pucker, macula hole, surgery complications, uveitis, Plaquenil toxicity and second opinions.
For more information on The Retina Group of New York, visit http://www.rgony.com, or call 516-939-6100 or 631-273-1818 for appointments.