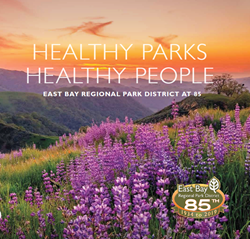 WALNUT CREEK, Calif. (PRWEB) November 29, 2019
"Healthy Parks Healthy People—East Bay Regional Park District at 85" is a beautiful hardcover coffee table book that celebrates the history and the beauty of the parks, trails, and shoreline that make up the San Francisco East Bay park system.
Starting in the late 1920s, thousands of acres of pristine watershed land became available for development. Farsighted civic leaders wanted to preserve the land forever. They enlisted the aid of landscape architect, Frederick Law Olmsted Jr. and the National Park Services Chief Naturalist, Ansel Hall. The two recommended a novel approach, a regional system to manage more than 10,000 acres for future parklands. In 1934, voters approved the measure for the first regional park agency in the nation.
ABOUT EAST BAY REGIONAL PARK DISTRICT
The East Bay Regional Park District is the largest regional park system in the nation, comprising 73 parks, 55 miles of shoreline, and 1,250 miles of trails for hiking, biking, horseback riding, and environmental education. The Park District receives more than 25 million visits annually throughout Alameda and Contra Costa counties in the San Francisco Bay Area.
ABOUT DIABLO CUSTOM PUBLISHING
Located near San Francisco, Diablo Custom Publishing (DCP) provides print and digital marketing communications and custom publishing services for corporate clients nationwide. DCP is the custom services division of Diablo Publications, which has been an award-winning publisher since 1979. Diablo Publications is an employee-owned company and an award-winning magazine publisher of titles such as Diablo, Napa Sonoma, Diablo Arts, Concierge Wine Country, Visit Oakland Inspiration Guide, and the Tri-Valley California Visitors Guide.