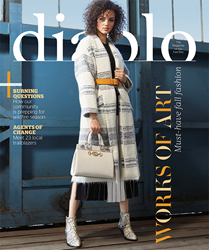 We were excited by the challenge of identifying people in our community who have fresh ideas for doing things differently, for solving problems in innovative ways, and for inspiring others to do the same.
WALNUT CREEK, Calif. (PRWEB) August 26, 2019
Diablo magazine has announced the 2019 Agents of Change in it's September issue. These 23 individuals are creating change across industries, for a variety of products and services, and impacting the future for us all. Deborah Kirk, Editorial Director for Diablo Publications, says "We were excited by the challenge of identifying people in our community who have fresh ideas for doing things differently, for solving problems in innovative ways, and for inspiring others to do the same."
Located in the San Francisco Bay Area, it's no surprise that many of these Agents hail from tech industries, including a UC Berkeley roboticist who is pioneering next-generation robots with artificial intelligence and Oakland's chief information officer looking to increase internet access for all with a rollout of public Wi-Fi. However, other Agents include teachers, real estate developers, podcasters, financial advisors, lawyers, politicians, and even video game publishers.
The 2019 Agents of Change are: Alex Mehran, the commercial real estate developer behind Bishop Ranch and City Center Bishop Ranch; Riya Kataria, teen activist who founded Picket Fence Academy, a nonprofit dedicated to bring public speaking education to elementary and middle school students; Dave Kaval, president of the Oakland Athletics, who began the Rooted in Oakland movement and who is pushing for the new Jack London Square ballpark; Brittany Murlas, founder of Little Feminist book box, a monthly book club with age-appropriate books for ages 0-3, 3-7, and 7-9 year old kids to diversify bookshelves with stories featuring girl protagonists and minority main characters; Darrell Jobe, president/CEO of Vericool, a company that has a cold-shipping solution that is better for the environment, affordable and performs as well as molded EPS (commonly referred to as Styrofoam®); plus, one-fourth of the employees are ex-felons, as is Jobe himself; Andrew "Pete" Peterson, CIO of Oakland, trying to create free public wi-fi all over Oakland; Olga V. Mack, founder of Women Serve on Boards and VP of Strategy at Quantstamp, working to get women on more corporate boards; Dana Dornsife, founder of Lazarex Cancer Foundation, which pairs cancer patients with clinical trials and pays for all travel expenses—the only company in the U.S. that does so; Christina Seelye, founder and CEO of Maximum Games, a top 20 video game publishing company that licenses games in overseas markets; recently launched Modus Games, which develops video games from independent creators; Pieter Abbeel, UC Berkeley roboticist who has developed a "safe," low-cost helper robot; Carlyn Obringer, mayor of the City of Concord. She's currently leading the redevelopment of the naval base and trying to get a four-year university established in Concord; Cat Berman (CEO) and Yuliya Tarasava (COO), founded CNote, a financial investing platform that encourages economic development in economically challenged areas; Rosie Reid, one of Contra Costa County's two "teachers of the year" for 2018-2019, she was the only teacher to represent California at the national Teacher of the Year awards and Kelly Perkins, a semifinalist for state teacher of the year, and shared Contra Costa County honors with Rosie. She works with special needs students at Ygnacio Valley High School; Brandon Cardwell, executive director of iGate, which supports and incubates start-ups in the Tri-Valley; Vincent Medina, co-mind behind Café Ohlone, working to bring back traditional Ohlone cuisine and food traditions; Katy and Ricardo Osuna, creators of the James Beard Award-winning podcast Copper & Heat, which focuses on issues of gender in fine-dining kitchens; Arnold Magcale, CEO and founder of Nautilus Data Technologies, which is trying to build data centers on waterborne barges, such as decommissioned aircraft carriers; Tara and Roy Gilad, founders of Vitality Bowl, a healthy food chain that is one of the top 500 restaurants in the U.S. according to Technomi; Michael Morgan, music director and conductor for the Oakland Symphony who created the new Playlist series, which partners with activists to create an eclectic playlist for the symphony to perform.
On September 12, Diablo magazine will host a celebration acknowledging this year's Agents of Change. The event will be held at The LOT Restaurant at City Center Bishop Ranch in San Ramon, CA. The general public is invited to attend, rsvps are required.
ABOUT DIABLO MAGAZINE
Celebrating 40 years, Diablo magazine covers topics ranging from travel, culture, and personalities to entertainment, recreation, and food. Diablo magazine is written specifically for the San Francisco East Bay market—from Central Contra Costa, into the Oakland and Berkeley hills, and throughout the Tri-Valley. With award-winning editorial content and beautiful photography, Diablo magazine is a unique celebration of the San Francisco East Bay. Published since 1979, Diablo magazine has been recognized for its editorial and design with numerous awards, including Maggie Awards for Best Overall Publication and Best Regional and State Magazine in the consumer category.
ABOUT DIABLO PUBLICATIONS
Diablo Publications, an employee-owned company, has been creating award-winning publications, including Diablo magazine, Napa Sonoma magazine, Diablo Weddings, Diablo Arts, Concierge Wine Country, Visit Oakland Inspiration Guide, and the Tri-Valley California Visitors Guide. Diablo Publications' custom content division, Diablo Custom Publishing (DCP), provides print and digital marketing communications and custom publishing services for corporate clients nationwide. For more information visit diablomag.com to view our retail publications and dcpubs.com to learn more about custom publishing.