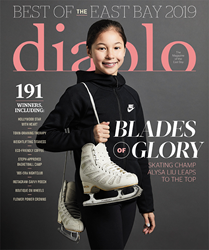 We depend on our readers to share their recommendations, and we can't thank them enough for their enthusiasm in helping us make such a comprehensive, informative, and fabulous issue.
WALNUT CREEK, Calif. (PRWEB) June 24, 2019
Diablo magazine has announced its annual list of "Best of the East Bay" award recipients. This year's list features readers' favorites, including runners-up and select editors' picks.
Best of the East Bay voting concluded on March 31 and thousands of votes were cast. Diablo editors tallied votes and tabulated results to identify winners as well as runners-up, which is a new element to this year's list.
Nine categories are covered and include arts & leisure, beauty & wellness, fitness, food, kids, nightlife, pets, shopping, and weddings. Each category is introduced by a local ambassador of notoriety, including Eric Ting, Artistic Director of California Shakespeare Theater; Diane Dietz, CEO of Rodan and Fields; Hans Florine, Manager of Diablo's Rock Gym and record-breaking rock climber; Nik Sharma, James Beard Award-nominated cookbook author and food writer; Bel McNeill, Owner of Bel and Bunna's Books, an independent children's bookstore; Jim Telford, Owner of Residual Sugar Wine Bar; David Knoepfle, Founder of Coast and Range, a dog-food producer; Pamela Donahue, Neiman Marcus Personal Shopper; Heather Jones, Catering Sales Director of Wente Vineyards.
There are also three personalities profiled, each gaining fame and recognition in their areas of expertise. Alysa Liu, 13-year-old 2019 senior national figure skating champion and 2022 Winter Olympics hopeful graces the cover. Caley Shoemaker, Hangar 1's head distiller and creative force behind harvesting San Francisco fog to make international award-winning Fog Point vodka, is one of only a few female head distillers in the country. And Oakland's own two-time Grammy Award-winner for Best Contemporary Blues Album, Fantastic Negrito, is focused on building a record label.
"We search for the finest and most exciting options across a broad spectrum of categories, we depend on our readers to share their recommendations, and we can't thank them enough for their enthusiasm in helping us make such a comprehensive, informative, and fabulous issue," writes editorial director Deborah Kirk.
ABOUT DIABLO MAGAZINE
Celebrating 40 years, Diablo magazine covers topics ranging from travel, culture, and personalities to entertainment, recreation, and food. Diablo magazine is written specifically for the San Francisco East Bay market—from Central Contra Costa, into the Oakland and Berkeley hills, and throughout the Tri-Valley. With award-winning editorial content and beautiful photography, Diablo magazine is a unique celebration of the San Francisco East Bay. Published since 1979, Diablo magazine has been recognized for its editorial and design with numerous awards, including Maggie Awards for Best Overall Publication and Best Regional and State Magazine in the consumer category.
ABOUT DIABLO PUBLICATIONS
Diablo Publications, an employee-owned company, has been creating award-winning publications, including Diablo magazine, Napa Sonoma magazine, Diablo Weddings, Diablo Arts, Concierge Wine Country, Visit Oakland Inspiration Guide, and the Tri-Valley California Visitors Guide. Diablo Publications' custom content division, Diablo Custom Publishing (DCP), provides print and digital marketing communications and custom publishing services for corporate clients nationwide. For more information visit diablomag.com to view our retail publications and dcpubs.com to learn more about custom publishing.