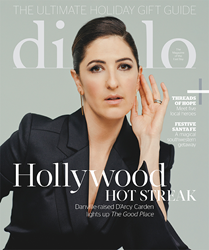 The mission has always been to help the sick and the poor. It's no different today.
WALNUT CREEK, Calif. (PRWEB) December 02, 2019
Diablo magazine's December issue highlights five local heroes who are changing their communities for the better through their volunteer work. This year's Threads of Hope honorees include a doctor who treats patients for free, a photographer who captures families' precious moments, a nonprofit founder helping Tri-Valley teens, a proponent of foster care youth, and a woman dedicated to making seniors' dreams come true.
Karen Henrich of Moment By Moment has spent 14 years providing photography to thousands of Bay Area families. She takes portraits of terminally ill children or those with a life-impacting condition and their families to capture the love, hope, and courage they express during the most difficult of times. The photo session can be extremely therapeutic and the photographs have incredible ongoing meaning.
Tom Wallace of Order of Malta Clinic of Northern California was a neurologist for half his life. Now, at age 89, he continues to treat thousands of patients at a clinic where he has volunteered four days a week since 2014. He states, "The mission (of the Order of Malta) has always been to help the sick and the poor. It's no different today."
Edie Henchey of Youth Homes Auxiliary has always loved retail and recognized the fundraising strength that thrift shop sales could afford a nonprofit helping foster children. Since 2014, the thrift store she manages has raised $100,000 each year; 100 percent of the sales directly benefit the children, making available birthday gifts and backpacks with school supplies and even some excursions.
Sharon Beswick Pappas of An Elderly Wish Foundation is a retired register nurse of 42 years having specialized in gerontology. Her sincere desire continues to be to help the elderly. Pappas has been volunteering with the organization for almost 20 years and they have granted some 200 wishes to date.
Linda Turnbull, founder of Teen Esteem in 1994, leads a team of 15 trained speakers who address issues relevant to students. The goal is to give kids confidence to make better choices for themselves.
Diablo magazine readers submitted nominations for this year's honorees, and dozens more for other outstanding volunteers. A panel of community leaders select the Threads of Hope honorees. This year's judges were Jeri Boomgaarden, managing director of donor services and senior development officer, East Bay Community Foundation; Mark Flower, senior vice president and regional managing director, Wells Fargo Private Bank; Gaby Ghorbani, founder and director, Pledge to Humanity; Carole Wynstra, board member, Walnut Creek Library Foundation.
THREADS OF HOPE EVENT
On December 4, all five 2019 Threads of hope honorees will be recognized and celebrated at the Threads of Hope event to be help at the Lesher Center for the Arts in Walnut Creek. Jessica Aguirre of NBC11 News will be the mistress of ceremonies and the event will be sponsored by Wells Fargo Private Bank and Contra Costa Oncology.
ABOUT DIABLO MAGAZINE
Celebrating 40 years, Diablo magazine covers topics ranging from travel, culture, and personalities to entertainment, recreation, and food. Diablo magazine is written specifically for the San Francisco East Bay market—from Central Contra Costa, into the Oakland and Berkeley hills, and throughout the Tri-Valley. With award-winning editorial content and beautiful photography, Diablo magazine is a unique celebration of the San Francisco East Bay. Published since 1979, Diablo magazine has been recognized for its editorial and design with numerous awards, including Maggie Awards for Best Overall Publication and Best Regional and State Magazine in the consumer category.
ABOUT DIABLO PUBLICATIONS
Diablo Publications, an employee-owned company, has been creating award-winning publications, including Diablo magazine, Napa Sonoma magazine, Diablo Weddings, Diablo Arts, Concierge Wine Country, Visit Oakland Inspiration Guide, and the Tri-Valley California Visitors Guide. Diablo Publications' custom content division, Diablo Custom Publishing (DCP), provides print and digital marketing communications and custom publishing services for corporate clients nationwide. For more information visit diablomag.com to view our retail publications and dcpubs.com to learn more about custom publishing.