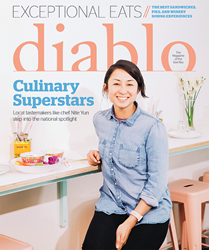 "November is one of our most highly anticipated issues of the year, and for good reason: Everyone likes to eat and drink!" -Alejandra Saragoza, Managing Editor
WALNUT CREEK, Calif. (PRWEB) October 26, 2018
Diablo magazine and Broadway Plaza will celebrate the 15th Anniversary of their Gourmet East Bay event on Saturday, November 3. Gourmet East Bay will feature 19 top East Bay restaurants, six award-winning wineries, five local breweries, and two spirits partners.
Gourmet East Bay brings to life Diablo magazine's popular November Food Issue, available on newsstands and at diablomag.com. This year's November issue spotlights local culinary superstars, including the cover story on nationally-recognized chef Nite Yun and her Cambodian eatery, Nyum Bai. The abundance of restaurants featuring sandwich-centric menus in the area truly are the best thing since sliced bread, plus delicious recipes from local pie experts are shared.
"November is one of our most highly anticipated issues of the year, and for good reason: Everyone likes to eat and drink!" says Managing Editor Alejandra Saragoza. "This year's Food Issue highlights delicious culinary trends, outstanding food and wine experiences, and local tastemakers who are putting the East Bay's dining scene on the national stage. It's one our readers definitely don't want to miss!"
As a celebration of the November issue, the Gourmet East Bay event boasts a crowd of 800 East Bay food enthusiasts, reaching a sell-out crowd since its debut in 2003. In addition to generous pours and unlimited food tastings, the evening includes dancing, and a silent auction, with the raffle and auction proceeds benefiting the Food Bank of Contra Costa and Solano.
Gourmet East Bay 2018 is Saturday, November 3 from 7 to 10 p.m., at Broadway Plaza in Walnut Creek. Ticket information is available at gourmeteastbay.com.
ABOUT DIABLO MAGAZINE
Covering topics ranging from travel, culture, and personalities to entertainment, recreation, and food, Diablo magazine is written specifically for the San Francisco East Bay market—from Central Contra Costa, into the Oakland and Berkeley hills, and throughout the Tri-Valley. With locally driven editorial content, beautiful photography, and resource listings, Diablo magazine is a unique celebration of the San Francisco East Bay. Published since 1979, Diablo magazine has been recognized for its editorial and design with numerous awards, including previous Maggie Awards for Best Overall Publication and Best Regional and State Magazine in the consumer category.
ABOUT DIABLO PUBLICATIONS
For over 39 years, Diablo Publications, an employee-owned company, has been creating award-winning publications, including Diablo magazine, Napa Sonoma magazine, Diablo Weddings, Diablo Arts, Concierge Wine Country, and the Tri-Valley California Visitors Guide. Diablo Publications' custom content division, Diablo Custom Publishing (DCP), provides complete print and online marketing communications and customer publishing services for corporate clients nationwide. For more information visit diablomag.com to view our retail publications and dcpubs.com to learn more about custom publishing.