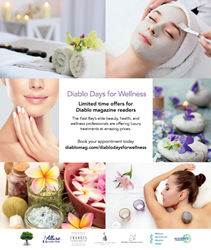 WALNUT CREEK, Calif. (PRWEB) January 24, 2020
Diablo Days for Wellness is a month-long promotion of discounted products and services available exclusively to Diablo magazine readers.
Through the month of February, Diablo magazine beauty, health, and wellness partners will offer luxury services at discounted prices. Available treatments include massages, facials, and several med spa treatments. These treatments and prices are available for a limited time and details are available on Diablo magazine's website. Diablo magazine readers are encouraged to contact participating partners to book appointments by February 29, 2020:
Participating Diablo Days for Wellness Partners are All Functional Health, Allure Rejuvenation Center, Changes Salon & Day Spa, Claremont Club & Spa, Dr. Michelle J. Place, MD, Medical Institute of Healthy Aging, and Tri-Valley Medical Center.
ABOUT DIABLO MAGAZINE
Celebrating 40 years, Diablo magazine covers topics ranging from travel, culture, and personalities to entertainment, recreation, and food. Diablo magazine is written specifically for the San Francisco East Bay market—from Central Contra Costa, into the Oakland and Berkeley hills, and throughout the Tri-Valley. With award-winning editorial content and beautiful photography, Diablo magazine is a unique celebration of the San Francisco East Bay. Published since 1979, Diablo magazine has been recognized for its editorial and design with numerous awards, including Maggie Awards for Best Overall Publication and Best Regional and State Magazine in the consumer category.
ABOUT DIABLO PUBLICATIONS
Diablo Publications, an employee-owned company, has been creating award-winning publications, including Diablo magazine, Napa Sonoma magazine, Diablo Weddings, Diablo Arts, Concierge Wine Country, Visit Oakland Inspiration Guide, and the Tri-Valley California Visitors Guide. Diablo Publications' custom content division, Diablo Custom Publishing (DCP), provides print and digital marketing communications and custom publishing services for corporate clients nationwide. For more information visit diablomag.com to view our retail publications and dcpubs.com to learn more about custom publishing.