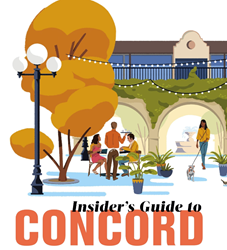 WALNUT CREEK, Calif. (PRWEB) December 30, 2019
Diablo magazine's January issue takes an up-close look at the rapidly expanding town of Concord. Many new restaurants, entertainment and recreation options abound.
Concord is a unique dining destination and offers a wide variety of global cuisine. January 17-26 marks the third annual Concord Comfort Food Week. Thirty restaurants will be participating, including Hop Grenade and Out the Dough, both of which are covered in Diablo's story. Hop Grenade entices with weekly rotating taps and a well-stocked bottle shop. Lines stretch out the door at Naan 'n' Curry for pick-ups to go. Digger's Diner is a '50s-style diner frequented by regulars for brunch and lunch. The original owner, Digger Dave, is a former gravedigger who happily serves up the popular Coffin burger. Out the Dough is an out-of-the-box concept—forget about the ice cream, it's all about the cookie dough.
Musical entertainment options in Concord are some of the best. The Concord Jazz Festival celebrated 50 years and the Concord Pavilion has showcased famous musicians and singers since 1975.
There are also many options for activity, whether it be outside or inside. Outdoor recreation includes golfing at Buchanan Fields Golf Course, a waterfall hike on Mount Diablo, or some fun with the kids at Pixieland Amusement Park. Indoor Entertainment includes Q-zar Laser Tag or the Red Door Escape Room. Plus there's extensive shopping at retail mecca The Veranda or the long-standing Sunvalley Shopping Center.
Where to eat, shop, exercise, have fun with the family, and stay overnight is covered extensively in "Visit Concord," the 30-page visitors guide to Concord, published by Diablo Custom Publishing (DCP). Centrally located between Napa's wine country to the north, San Francisco to the west, and Silicon Valley to the south, Concord lies at the center of the bustling East Bay community.
ABOUT DIABLO MAGAZINE
Celebrating 40 years, Diablo magazine covers topics ranging from travel, culture, and personalities to entertainment, recreation, and food. Diablo magazine is written specifically for the San Francisco East Bay market—from Central Contra Costa, into the Oakland and Berkeley hills, and throughout the Tri-Valley. With award-winning editorial content and beautiful photography, Diablo magazine is a unique celebration of the San Francisco East Bay. Published since 1979, Diablo magazine has been recognized for its editorial and design with numerous awards, including Maggie Awards for Best Overall Publication and Best Regional and State Magazine in the consumer category.
ABOUT DIABLO PUBLICATIONS
Diablo Publications, an employee-owned company, has been creating award-winning publications, including Diablo magazine, Napa Sonoma magazine, Diablo Weddings, Diablo Arts, Concierge Wine Country, Visit Oakland Inspiration Guide, and the Tri-Valley California Visitors Guide. Diablo Publications' custom content division, Diablo Custom Publishing (DCP), provides print and digital marketing communications and custom publishing services for corporate clients nationwide. For more information visit diablomag.com to view our retail publications and dcpubs.com to learn more about custom publishing.