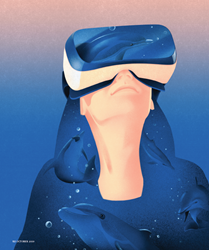 "It's very empowering, because you can see things that were otherwise hidden," Dr. Auguste says, "It makes me think back to all of the difficult surgeries I've ever done. If only I'd had this technology before, I wonder how much easier those experiences might have been."
WALNUT CREEK, Calif. (PRWEB) September 30, 2019
Dr. Kurtis Auguste is a pediatric neurosurgeon at UCSF Benioff Children's Hospital Oakland, and he uses virtual reality (VR) technology to prepare and plan for his surgeries. When compared to the two-dimensional, thin, vertical segments of an MRI, the 3D replica of the entire area in question is a game changer. Now, he is sharing that technology with patients and their families prior to surgery to educate and reassure them. Read the entire story here.
Using a virtual reality system called Surgical Theater, Dr. Auguste can put on a headset and "fly" into a 3D model of a young patient's brain. The patient and his or her parents are invited to a pre-operative session where they all wear goggles and are able to watch and individually interact with the visual experience. Dr. Auguste, represented by an avatar wearing a white doctor's coat, serves as tour guide. Using hand controls to glide around, they can see blood vessels, vision fibers, and even tumors or aneurysms. Dr. Auguste plots his point of entry for surgery and how best to remove threatening tissue abnormalities. Patients and their families benefit from a visual introduction to the cause of the patient's medical condition and the knowledge of exactly how Dr. Auguste intends to operate on it. This exercise brings great calm and confidence to patients, helping them focus on a successful surgery and future recovery.
"It's very empowering, because you can see things that were otherwise hidden," Dr. Auguste says, "It makes me think back to all of the difficult surgeries I've ever done. If only I'd had this technology before, I wonder how much easier those experiences might have been."
Dr. Auguste sees many applications for the future use of VR technology in the medical field, including but not limited to educating patients and medical staff, serving as a rehab and recovery monitoring tool, and training international teams of surgeons and medical staff.
Virtual reality also helps young patients manage pain and stress. Patients at UCSF Benioff Children's can slip on a headset and enter an underwater experience called KindVR Aqua. Simon Robertson, the founder of KindVR in Alameda, says the technology allows patients to interact with dolphins and whales, which introduces a distraction, and helps them reduce the perception of pain and even potential opioid consumption.
ABOUT DIABLO MAGAZINE
Celebrating 40 years, Diablo magazine covers topics ranging from travel, culture, and personalities to entertainment, recreation, and food. Diablo magazine is written specifically for the San Francisco East Bay market—from Central Contra Costa, into the Oakland and Berkeley hills, and throughout the Tri-Valley. With award-winning editorial content and beautiful photography, Diablo magazine is a unique celebration of the San Francisco East Bay. Published since 1979, Diablo magazine has been recognized for its editorial and design with numerous awards, including Maggie Awards for Best Overall Publication and Best Regional and State Magazine in the consumer category. To learn more about Diablo magazine, visit diablomag.com.
ABOUT DIABLO CUSTOM PUBLISHING
Diablo Custom Publishing (DCP), provides print and digital marketing communications and custom publishing services for corporate clients nationwide. DCP is the custom services division of Diablo Publications, which has been an award-winning publisher since 1979. DCP offers marketing expertise and publishing excellence within the fields of healthcare, higher education, visitor travel, and arts & entertainment. To learn more about DCP, visit dcpubs.com.
ABOUT DIABLO PUBLICATIONS
Diablo Publications, an employee-owned company, has been creating award-winning publications, including Diablo magazine, Napa Sonoma magazine, Diablo Weddings, Diablo Arts, Concierge Wine Country, Visit Oakland Inspiration Guide, and the Tri-Valley California Visitors Guide. Diablo Publications' custom content division, Diablo Custom Publishing (DCP), provides print and digital marketing communications and custom publishing services for corporate clients nationwide. For more information visit diablomag.com to view our retail publications and dcpubs.com to learn more about custom publishing.