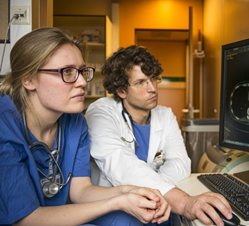 Dr. Electron Kebebew has developed three biomarker-based methods that accurately and reproductively predict which adrenal tumors are not malignant with 100% negative predictive certainty.
Boston, Massachusetts (PRWEB) January 31, 2021
One Million Solutions in Health via their Hidden GEMS Program partnered with the United States' National Institutes of Health Office of Technology Transfer (NIH-OTT) and the National Cancer Institute Technology Transfer Center (NCI-TTC) to spread awareness of NIH technologies and advances, to commercialize new science through licensing agreements.
Dr. Electron Kebebew shares his work in this scientific presentation and licensing opportunity review which is spearheaded by One Million Solutions in Health. During his presentation which is entitled "NIH Licensing Opportunity: Diagnostic to Manage Benign vs. Malignant Adrenal Tumors with 100% Negative Predictive Certainty" scientific scouts, business leaders and commercialization experts are provided with the opportunity to acquire knowledge about the latest science and technology directly from the NIH scientist.
In this scientific and opportunity presentation, those attendees with strong knowledge about this market and the scientific need for new technology can also take part in One Million Solutions in Health's exclusive Signature Square process where they are able to assess the innovation, make inquiries and give open feedback to the scientist.
In the 80 million CT scans that are performed annually in the United States, up to 1.6 million times the ordering physician accidentally finds what could be an adrenal tumor. The question is, of course, is the tumor malignant or benign?
This new diagnostic will allow the patient and their physician or surgeon to avoid some of the current diagnostic options. This is important because current diagnostic testing is not always accurate. As well, many patients opt for surgery as the diagnostic evaluation to ensure the tumor is not malignant. This surgery can be unnecessary and also unreliable, as the current pathology evaluation is often not definitive.
Dr. Kebebew has developed three biomarker-based methods that accurately and reproductively predict which adrenal tumors are not malignant with 100% negative predictive certainty.
This scientific presentation is an opportunity to license this technology, or participate in further collaborative work to enhance its development.
The Technology Evaluation Consortium, which plays a role in evaluating new technologies such as this, includes organizations such as Pfizer, AbbVie, Amgen and Allergan, and many others.
ABOUT ONE MILLION SOLUTIONS IN HEALTH
The goal of One Million Solutions in Health is to shape health care by sharing solutions and, importantly, to accelerate the discovery, development and delivery of innovative cures, treatments and preventative measures for patients around the world.
In this next year through the Hidden GEMS Program, we will be reviewing 100's of new solutions and new scientific discoveries. By engaging scientists, entrepreneurs, investors, innovators, industry experts, health care professionals, and patients across various disciplines, and from around the world, we can utilize the power of the internet to disrupt things in a positive and transformative way to accelerate the movement of new solutions and scientific discoveries from the scientist to the patient.
We are on our way towards accelerating high-potential innovations, catalyzing investment and increasing awareness of, and support for, transformative ideas to improve health and save lives. By facilitating efforts to ensure organizations can Connect, Learn + Share, Innovate and Collaborate, our vision is to improve health care delivery, accelerate life sciences research, and share patient and consumer-focused ideas and solutions.
As a not-for-profit, we welcome your participation and are thrilled to have you be a part of this transformative journey.
ABOUT the TECHNOLOGY EVALUATION CONSORTIUM and the HIDDEN GEMS PROGRAM
Through the Hidden GEMS Program, the Technology Evaluation Consortium from One Million Solutions in Health is dedicated to improving and accelerating life sciences R&D and health care outcomes. The Technology Evaluation Consortium brings together life sciences and/or health care companies and industry vendors or scientists, and other relevant partners (e.g., government and Universities), to evaluate and validate technologies or services in a collaborative environment.
The model empowers technology providers/scientists and industry end-users to collectively assess a number of solutions in a cost-effective manner, producing a depth and breadth of results that no company can achieve alone. Our mission is to triage and streamline new technology consideration for the industry and to be the place for the industry to conduct their evaluations and validations.
To obtain further information about licensing or co-development opportunities OR to have One Million Solutions in Health help your Technology Transfer office bring more of your research to market by obtaining more licensing deals via the Hidden GEMS Program, contact:
Dawn Van Dam, Executive Director
One Million Solutions in Health
info@onemillionsolutionsinhealth.org