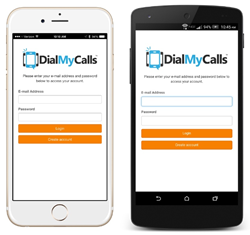 Jupiter, FL (PRWEB) September 16, 2015
Customers of DialMyCalls, a voice & SMS broadcasting service, now have the option of utilizing the service from a completely redesigned mobile app. The company has opted to go for a complete overhaul with the release of version 3.0 of the iOS and Android mobile apps.
Existing customers as well as new members can download the DialMyCalls app for free from iTunes or the Google Play Store. Once installed on a supported mobile device, customers can log into or create a new account and manage contacts, create recordings, send out voice or text message broadcasts, and check out detailed reports of the broadcasts that were sent out.
Along with a newly streamlined design, the new mobile app has added the ability to use the two-way texting feature that DialMyCalls offers for $4.99/month. Customers can now send out a text message broadcast from within the app and then view the replies and reply back – previously this feature was only available using the full desktop version of the site. Both iOS and Android users now also have in-app purchasing for the various credit packages the company has to offer to utilize its mass notification system.
"Ever since version 1.0 of our mobile app all of our customers have given feedback in regards to how it can be improved," says DialMyCalls CEO David Batchelor. "Version 3.0 of our iOS and Android apps has taken into account all of the feedback received and offers an extremely easy-to-use interface with our most popular features from the web-based system in a format that anyone can use."
Android 2.3 and up is required and for Apple users the new mobile app requires iOS 6.0 or later and is compatible with the iPhone, iPad and iPod touch. For more information regarding the new DialMyCalls mobile app, please visit http://www.DialMyCalls.com.
About DialMyCalls
DialMyCalls.com was founded in 2006 and has over 50,000 customers that utilize their mass notification system. The brand new mobile app for iOS and Android offers their customers an additional way to send out important messages via phone call, text message and email.
For more information, please visit http://www.dialmycalls.com or call 800-928-2086. You can also email tsmith(at)ontimetelecom(dot)com for additional information.