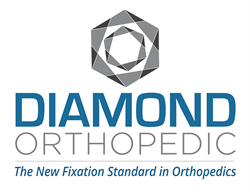 "This is a significant vote of confidence in the value proposition of faceted bone screws . . ."
CHARLOTTE, N.C. (PRWEB) January 13, 2021
Diamond Orthopedic, a medical device company that is pioneering the use of an innovative faceted threadform in orthopedics, today announced an agreement to supply faceted bone screws for the NuVasive PRECICE® Plate, a limb lengthening and reconstruction system. The NuVasive PRECICE® Plate addresses pediatric applications for patients with small anatomy who cannot accommodate a lengthening device that is traditionally implanted within the patient's bone.
The agreement is for the supply of both locking and non-locking faceted threadform screws in a new system that is designed to affix to the outside of a patient's bone to avoid potential damage to the growth plate. Over several months from home, the patient follows a custom lengthening schedule to gradually distract the plate, stretching newly forming bone to a targeted length. Diamond Orthopedic screws are utilized to secure the plate during the bone lengthening process.
Diamond's patented faceted bone screw design allows surgeons to insert faceted screws into bone with reduced insertional torque and increased screw pullout, according to both in vitro and in vivo studies that have been completed by the company. These studies have also demonstrated an improved bone-screw interface versus traditional helical threadforms.
"This is a significant vote of confidence in the value proposition of faceted bone screws," said Roy Bivens, chief executive officer of Diamond Orthopedic. "Faceted bone screws offer unparalleled fixation, and we are especially proud to have the opportunity to bring this technology to pediatric cases as a part of NSO's new PRECICE® plating system that elevates the standard of care for pediatric patients with limb length discrepancy."
About Diamond Orthopedic
Diamond Orthopedic, LLC, headquartered in Gastonia, NC, is a medical device company that offers a revolutionary fixation technology to achieve better patient outcomes at a lower total cost. Diamond Orthopedic is the exclusive provider of faceted threadform technology for orthopedic applications worldwide. With proven superiority over traditional helical threadforms, Diamond Orthopedic is the new fixation standard in orthopedics.
Diamond Orthopedic Contact:
P.O. Box 1470
Belmont, NC, 28012
Phone: 704-585-8270
Email: info@diamondortho.com
SAFE HARBOR STATEMENTS
All statements included in this press release other than statements of historical fact are forward-looking statements and may be identified by their use of words such as "believe," "may," "might," "could," "will," "aim," "estimate," "continue," "anticipate," "intend," "expect," "plan" and other similar terms. These forward-looking statements are based on our current assumptions, expectations and estimates of future events and trends. Forward-looking statements are only predictions and are subject to many risks, uncertainties and other factors that may affect our businesses and operations and could cause actual results to differ materially from those predicted. These risk factors contain certain forward-looking statements that involve risks and uncertainties. These statements relate to the Company's future plans, objectives, expectations and intentions. The Company's actual results could differ materially from those discussed in these statements. It is difficult to accurately predict the impact of each of these risks on the Company due to the dependence on many factors outside the Company's control. These risks and uncertainties include, but are not limited to, factors affecting our financial results, our ability to manage our growth, our ability to sustain our profitability, demand for our products, our ability to compete successfully (including without limitation our ability to convince surgeons to use our products and our ability to attract and retain sales and other personnel), our ability to rapidly develop and introduce new products, our ability to develop and execute on successful business strategies, our ability to comply with laws and regulations that are or may become applicable to our businesses, our ability to safeguard our intellectual property, our success in defending legal proceedings brought against us, trends in the medical device industry, general economic conditions, and other risks. It is not possible for us to predict all risk factors and uncertainties, nor can we assess the impact of all factors on our business or the extent to which any factor, or combination of factors, may cause actual results to differ materially from those contained in any forward-looking statements. Given these risks and uncertainties, readers are cautioned not to place undue reliance on any forward-looking statements. Forward-looking statements contained in this press release speak only as of the date of this press release. We undertake no obligation to update any forward-looking statements as a result of new information, events or circumstances or other factors arising or coming to our attention after the date hereof.