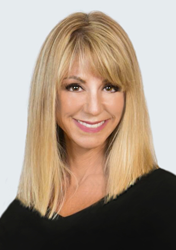 SAN DIEGO (PRWEB) March 25, 2021
Dynam.AI, the AI solutions leader for complex computer vision and machine learning challenges, announced that Diana Shapiro has joined their executive leadership team as CRO. Ms. Shapiro joins the Dynam.AI team with over 25 years of executive leadership experience in novel CleanTech, FinTech, and MedTech companies. She will lead the Dynam.AI business development, strategic partnerships, and marketing efforts to expand market presence for their workbench-enabled Computer Vision Machine Learning (CVML) solutions.
"I joined Dynam.AI because of the successful track record and expertise this team has with launching cutting-edge AI solutions," said Ms. Shapiro. "The global market for computer vision products and services is expected to reach almost $20B within the next six years and CVML is a highly complex undertaking for any company to implement on its own, so I see an enormous market opportunity for Dynam.AI!"
Prior to joining Dynam.AI, Diana spent 18 years as Managing Partner at Corporate Cost Solutions, a management consulting firm serving MedTech & CleanTech clients as COO and VP of Business Development. Before that, she spent five years in FinTech as Executive Vice President, Sales for ICE Exchange Data Services (BondEdge). Diana earned her Bachelors of Business Administration from the University of Massachusetts at Amherst and her Certificate in AI & Machine Learning; Implications for Business Strategy from MIT, Sloan School of Management.
"We are thrilled to have Ms. Shapiro join our executive team at Dynam.AI," said Andreas Roell, Dynam.AI CEO. "Our workbench of machine learning algorithms, models, and tools is uniquely suited to handle complex image and video inputs, and we are looking forward to having Ms. Shapiro on board to build a wide range of corporate partnerships and drive market exposure for our advanced AI solutions."
About Dynam.AI
Dynam.AI is solving the most complex computer vision challenges for enterprises across the globe. Empowered by our rapid model deployment platform, we deliver CVML solutions with the highest accuracy to enable superior quality and performance for our customers in record time. Since our founding, we have provided game-changing artificial intelligence to organizations spanning industries including Titleist, Resmed, and Waveform Diabetes.