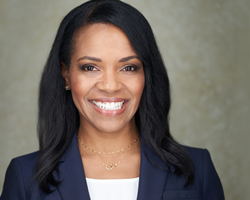 "Diana is a dynamic leader with a proven track record of sustainable growth—helping clients solve problems from both a financial and operational perspective," said President Bony Dawood, PE.
HARRISBURG, Pa. (PRWEB) January 31, 2023
Dawood, an international engineering, technology, and finance solutions firm, hired 30-year executive veteran Diana Tucker Harrison as Chief Financial Officer. Tucker joins the Dawood senior management team with wing-to-wing finance, operations, business development, marketing, product management, and lean management experience spanning diverse markets.
"Diana has been responsible for $25 million to $1.2 billion in business profit and loss in the engineering, renewable energy, industrial, and healthcare sectors throughout her career," said President and CEO Bony Dawood, PE. "She adds enormous value to the Dawood family of companies leadership group as we grow globally."
Tucker's career journey includes executive-level duties with large international companies and mid-sized corporations. During the past decade she served as President of GE Healthcare's Northeast Region, US & Canada Division, and established a unified voice from manufacturer to customer. In her role as Chief Operating Officer and Chief Financial Officer, Tucker directed operations, joint-venture creation, and solar market growth for a Washington, D.C., environmental engineering firm.
As a senior director in the startup space, Tucker led commercial development of artificial intelligence and global positioning system tracking software for a market use-case ensuring secure flow of products across the US/Mexico border—part of seed funding for a supply chain security solutions software company.
"I'm impressed by Dawood's culture, employee commitment, and strategic growth focus on helping clients transform global infrastructure—a core priority," said Tucker. "I'm eager to work with the team as we build upon Dawood's success and deliver on our financial and operational initiatives."
A graduate of the Purdue School of Chemical Engineering, Tucker was awarded the school's Outstanding Chemical Engineer Award in 2021. She also holds an MBA from the University of Southern California and is active in The Quorum Initiative, a women's executive professional development group.
About Dawood
Dawood engineers global infrastructure transformation. Celebrating over 30 years of excellence, the Dawood family of companies has planned, designed, and constructed sustainable environments throughout the US, features Government Finance Solutions, develops real estate through Good Hope Ventures, and extends surveying, geographic information systems (GIS), and building information modeling (BIM) internationally through ArchiTube, its 3D technology arm in Poland. Dawood delivers award-winning technology, digital twins, planning, design, and predictive analytics to utility, energy, transportation, industrial, planning, economic and land development, environmental, municipal, movie and entertainment, real estate, and retail clients. The company's workforce development, mentor-protégé, and community programs advance STEM, diversity, and inclusion.
Learn more:
https://www.dawood.net/
https://www.linkedin.com/company/dawoodengineers
https://www.facebook.com/DawoodEngineers
https://twitter.com/DawoodEngineers