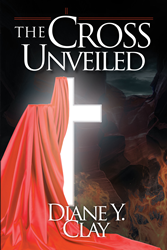 MEADVILLE, Pa. (PRWEB) April 08, 2020
"The Cross Unveiled": an illuminating read that exposes the evilness of Satan whose only mission is to destroy us and our humanity within. "The Cross Unveiled" is the creation of published author Diane Y. Clay, a watchman and a prayer warrior who prays for America and the world. She is a native of Los Angeles, California and was raised in the San Fernando Valley. Her family attended Christ Memorial Church of God in Christ under Bishop Benjamin J. Crouch.
Clay shares, "For those who are not Christians, this comes to you so that you also can take comfort in the knowledge that the forces of the enemy of our souls are under the complete control of God and can only act in ways He allows. Jesus came to set the captives free and to give up himself as a ransom for our sins—to give us hope that in knowing him all things are possible.
"Just as in the days of Daniel, God, who saved the three Hebrew boys from burning in a fiery furnace, sent his Son to rescue them. Two thousand years ago, God sent His Son again but this time as a ransom to rescue a dying world. He was nailed to a cross and with His shed blood, all people are saved from their sins and spending eternity in a burning hell.
"At that time, the Babylonian king built a statue of himself; and he sent out a decree that everyone should bow down before it. When passing, Shadrach, Meshach, and Abednego refused because, even though they were in exile from Israel, they knew what God had told them that bowing down to false gods was a sin.
"Daniel 3:21–29 (NIV) says,
"So these men, wearing their robes, trousers, turbans and other clothes, were bound and thrown into the blazing furnace. The kings command was so urgent and the furnace so hot that the flames of the fire killed the soldiers who took up Shadrach, Meshach and Abednego, and these three men, firmly tied, fell into the blazing furnace.
"Then King Nebuchadnezzar leaped to his feet in amazement and asked his advisers, 'Weren't there three men that we tied up and threw into the fire?'
"They replied, 'Certainly, your Majesty.'
"He said, 'Look! I see four men walking around in the fire, unbound and unharmed, and the fourth looks like a son of the gods.'
"Nebuchadnezzar then approached the opening of the blazing furnace and shouted, 'Shadrach, Meshach and Abednego, servants of the Most High God, come out! Come here!'
"So Shadrach, Meshach and Abednego came out of the fire, and the satraps, prefects, governors and royal advisers crowed around them. They saw that the fire had not harmed their bodies, nor was a hair of their heads singed; their robes were not scorched, and there was no smell of fire on them.
"Then Nebuchadnezzar said, 'Praise be to the God of Shadrach, Meshach and Abednego, who has sent his angel and rescued his servants! They trusted him and defied the king's command and were willing to give up their lives rather than serve or worship any god except their own God.' Therefore I decree that the people of any nation or language who say anything against the God of Shadrach, Meshach and Abednego be cut into pieces and their houses be turned into piles of rubble, for no other god can save in this way."
Published by Christian Faith Publishing, Diane Y. Clay's new book is a profound manuscript that carries a message and a warning for the nation, and calls for everyone to return to the Most High God.
This book is written to aid people in discovering God's immense love and His widely opened arms ready to welcome one in His embrace.
View a synopsis of "The Cross Unveiled" on YouTube.
Consumers can purchase "The Cross Unveiled" at traditional brick & mortar bookstores, or online at Amazon.com, Apple iTunes store, or Barnes and Noble.
For additional information or inquiries about "The Cross Unveiled," contact the Christian Faith Publishing media department at 866-554-0919.