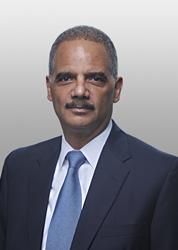 CARLISLE, Penn. (PRWEB) April 14, 2021
Dickinson College will host a series of intimate Graduate Recognition Ceremonies on May 15 giving seniors the opportunity to participate in the revered traditions of hearing their names announced and walking down the steps of Old West, while adhering to the most current health and safety guidelines. Up to four guests per graduate may attend these ceremonies, elements of which will be presented during a virtual Commencement ceremony for the Class of 2021 on Sunday, May 23. The event will be broadcast on Facebook Premiere.
Dickinson's virtual Commencement ceremony will include brief remarks from President Margee M. Ensign, Board of Trustees Chair John E. Jones III and a pre-recorded address by the 2021 Commencement speaker Eric Holder, former U.S. Attorney General under President Barack Obama. Holder will receive an honorary Doctor of Justice Administration. Fellow honorary degree recipients are Esther T. Benjamin, a global executive, and David McCormick, a business executive. The Sam Rose '58 and Julie Walters Prize at Dickinson College for Global Environmental Activism will be presented to the 2021 recipient, Varshini Prakash, co-founder and executive director of Sunrise Movement.
Additionally, since the Commencement ceremony for the class of 2020 was postponed due to the COVID-19 pandemic, graduates will be recognized, along with the speaker and honorary degree recipients, in a modified ceremony during Dickinson's Homecoming & Family Weekend in September. Lisa Sherman, Dickinson class of 1979, president and CEO of the Ad Council, will be the Commencement speaker for the Class of 2020 ceremony and will receive a Doctor of Public Service honorary degree. Michael B. Moore, founding CEO of the International African American Museum will receive an honorary Doctor of Public History.
Commencement Speaker
Eric H. Holder, Jr.
Doctor of Justice Administration
Eric H. Holder, Jr. has served in government for more than 30 years, having been appointed to various positions requiring U.S. Senate confirmation by three U.S. presidents. In 1988, President Ronald Reagan nominated him to be a superior court judge for the District of Columbia. President Bill Clinton nominated Holder to serve as U.S. attorney for the District of Columbia in 1993. Confirmed by the Senate later that year, he became the first African American to head the country's largest U.S. attorney's office. Holder made community outreach a priority, establishing a domestic violence task force and forging partnerships with local law enforcement and civic groups. He also worked to reduce gun crime. In 1997, Holder was named deputy attorney general, a post that gave him the opportunity to expand on the initiatives he had launched as U.S. attorney.
From 2009 to 2015, Holder served as the 82nd attorney general of the United States. He is the first African American to hold that position, and his six-year tenure makes him the third-longest-serving attorney general in U.S. history. Shortly after he was confirmed, Holder delivered a controversial but fortuitous Black History Month speech to his justice department staff, saying the United States continues to be a "nation of cowards" in the way it confronts and understands issues of race, and he placed a "special responsibility" on the justice department to lead change. As the nation's top law enforcement officer and head of the Justice Department, Holder advocated for civilian trials for terrorists and investigated the New Orleans Police Department because of allegations of misconduct during Hurricane Katrina.
In 2014, Time magazine named Holder to its list of 100 Most Influential People, noting he had "worked tirelessly to ensure equal justice," a sentiment echoed by fellow Obama Cabinet member Lisa Jackson, who served as EPA administrator. In a livestreamed conversation for Apple's 2020 Worldwide Developers Conference, Jackson said Holder's "most notable attribute is his unwavering commitment to social justice." Jackson, now vice president at Apple, is the 2013 recipient of Dickinson's Rose-Walters Prize. In that same conversation, she and Holder discussed the current state of race in America, which Holder described as a "generational racial awakening," that will be "led by young people." He also called for a "new level of civic engagement."
Before his service as attorney general, Holder maintained a wide-ranging investigations and litigation practice at Covington & Burling LLP in Washington, D.C. He rejoined the firm in 2015, where he is currently a partner practicing litigation, public policy and government affairs and white collar defense and investigations. Holder is a graduate of Columbia College and Columbia Law School and holds bar admissions in New York and the District of Columbia.
Esther T. Benjamin
Doctor of International Education
As a global executive in the public, private and civil society sectors for more than 25 years, Esther Benjamin has led business partnerships, as well as education, engagement, health and economic development programs in more than 100 countries. Currently, she is CEO and executive director of World Education Services (WES), a social enterprise dedicated to helping international students, immigrants and refugees achieve their educational and workplace goals in the U.S. and Canada. Previously, she was CEO for Africa Operations with Laureate Education, the global leader in providing access to high-quality, innovative institutions of higher education.
Benjamin has served in the administrations of President Barack Obama and President Bill Clinton. Under President Obama, Benjamin was associate director for global operations for the Peace Corps overseeing programs in nearly 80 countries. Following the 2008 elections, she served on the Obama-Biden presidential transition team. Under President Clinton, Benjamin served as a White House fellow working with labor secretary Alexis Herman on international policies and programs. For her career contributions, she received the White House Fellows Foundation and Association's IMPACT Award, which recognizes achievement and transformational contributions to society and the professional field. Earlier in her career, Benjamin was an executive with the International Youth Foundation and a united national humanitarian officer responsible for coordinating humanitarian aid in Somalia.
Benjamin serves on several boards, including American University's School of International Service, her graduate alma mater, which recognized her with its Outstanding Alumna Award, as well as the board of North Central College, her undergraduate alma mater, which twice recognized her as an Outstanding Alumna. Benjamin is a 2021 honoree of the One to World Annual Fulbright Awards for her contributions to international education and global cooperation. New York Times bestselling author Wes Moore profiled her as "The Globalist" in his book, "The Work: Searching for a Life that Matters."
David McCormick
Doctor of International Relations
David McCormick's career has straddled the worlds of military, government, finance, philanthropy and business. Currently, as CEO of Bridgewater Associates, a global investment firm with more than $160 billion in assets, he oversees the firm's strategy, governance and business operations. He joined Bridgewater in 2009 and previously served as the firm's president before becoming CEO in 2020.
Previously, McCormick was the U.S. Treasury under secretary for international affairs in the George W. Bush Administration serving as the country's top economic diplomat during the 2008 financial crisis. He went on to serve as deputy national security advisor for international economic policy, during which time he was the principal White House advisor to President Bush for international economic policy and acted as the president's personal representative and lead negotiator for the Group of Eight industrialized countries.
From 1999 to 2005 McCormick was a technology entrepreneur, serving as CEO and then president of two publicly traded software companies, FreeMarkets, Inc. and Ariba, Inc. He was named a Distinguished Service Professor of Information Technology, Public Policy and Management at Carnegie Mellon's Heinz College. He is a trustee for The Hospital for Special Surgery and the Aspen Institute, and he is chairman of the Atlantic Council's International Advisory Board.
A Pennsylvania native, McCormick is a graduate of the United States Military Academy at West Point and has a Ph.D. from the School of Public and International Affairs at Princeton University. He is a former Army officer and a veteran of the Gulf War.
Varshini Prakash
2021 Recipient of The Sam Rose '58 and Julie Walters Prize at Dickinson College for Global Environmental Activism
Varshini Prakash is executive director and co-founder of Sunrise Movement, a grassroots organization of young people working to stop climate change and create good-paying jobs in the process. She and a handful of like-minded activists launched Sunrise Movement in the summer of 2017. "We were just young people who were fed up with seeing politicians kicking the can down the road, sweeping what is the greatest threat facing our generation under the rug and refusing to deal with the reality of the crisis at hand," Prakash told NPR.
Focusing on growth through grassroots organizing and political action with candidate endorsements, the group gained recognition and support after it organized a sit-in at House Speaker Nancy Pelosi's Washington, D.C., office in 2018 with backing from U.S. Rep. Alexandria Ocasio-Cortez. Now one of the largest youth movements in the country, Sunrise is leading the charge for the Green New Deal, a constellation of public policy proposals to address climate change while creating jobs and reducing economic inequality.
Prakash has used her growing public profile to tirelessly advocate for Sunrise's principles. Her work has been featured by The New York Times, The Washington Post, BBC News and MSNBC among others. She is the daughter of immigrants from India, and Prakash said the 2004 Indian Ocean tsunami was one of the first moments that pushed her toward getting involved in climate action.
Prakash was named to Forbes 30 under 30 list for law and policy and to the Time magazine's 100 Next, a list of rising stars shaping politics, popular culture, science and more. She is a graduate of the University of Massachusetts Amherst.