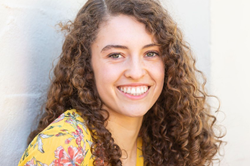 "Dickinson's focus on a global education is perfectly aligned with my personal and career goals. The scholarship is an important tool for me as I start my journey, and I am excited to explore the opportunities it presents for me at Dickinson and beyond." - Virginia Enney
CARLISLE, Pa. (PRWEB) July 07, 2020
Virginia Enney, a 2020 graduate of San Luis Obispo Classical Academy, has been selected as the recipient of the inaugural Dickinson-CET Global Leaders Scholarship, a four-year, full-tuition scholarship awarded annually to a college-bound student who shows interest in global issues and has participated in CET high school programs for which Dickinson grants course credit.
"I am honored to be the first recipient of this scholarship," said Enney, who participated in CET's program in Florence, Italy. "Dickinson's focus on a global education is perfectly aligned with my personal and career goals. The scholarship is an important tool for me as I start my journey, and I am excited to explore the opportunities it presents for me at Dickinson and beyond."
"We are thrilled to welcome an outstanding student like Virginia to our campus and global community," said President Margee M. Ensign. "Her desire to seek out understanding of the wider world is absolutely critical for our future leaders, and we are so encouraged to see her continue her international education with us." Ensign announced the creation of the scholarship in 2019 as a reflection of the Dickinson's leadership in global education and internationalization.
Enney, who hails from Morro Bay, Calif., served as president of her senior class on student council and was a member of both the varsity girls' basketball and track teams. She is also a violinist in the San Luis Obispo Youth Symphony.
"International education is important because the world and job market will continue to change rapidly," said Enney. "An international perspective is crucial to keep up and to navigate these future challenges."
Dickinson recently became the school of record and credit-granting institution for CET's expanding high school and pre-college study-abroad programs.
About Dickinson College
Dickinson is a nationally recognized liberal-arts college chartered in 1783 in Carlisle, Pa. The highly selective college is home to 2,300 students from across the nation and around the world. Dickinson has been a leader in global education and internationalization for decades. The college is the only institution to win the Senator Paul Simon Award for Comprehensive Internationalization two times, in 2019 and 2003. Dickinson's Center for Global Study & Engagement (CGSE)—the college's hub of internationalization—supports education abroad as well as international and exchange students and visiting scholars. Dickinson offers 31 semester-long and academic-year programs in 24 countries, as well a full range of short-term, faculty-led programs, including the distinctive global Mosaic and globally integrated courses.
About CET Academic Programs
CET Academic Programs is a study abroad organization that has been developing and operating innovative educational programs abroad since 1982. Originally "China Educational Tours," CET began operations in Beijing, and today offers a varied portfolio of semester, summer, and customized programs for college, high school, pre-college, and gap year students around the world. Known for strong academics, professional program management, and supportive student services, CET strives to integrate students into their host communities, adopt environmentally conscientious practices, and promote diversity and inclusion across all programs.