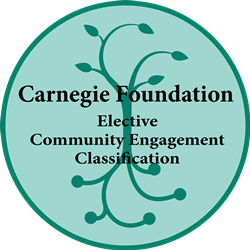 "Civic engagement work builds community resilience, prepares students for complex problem-solving and is a critical component of our college's mission to provide a useful education for the common good." - Dickinson College President Margee M. Ensign
CARLISLE, Pa. (PRWEB) January 31, 2020
The Carnegie Foundation has honored Dickinson College with its Carnegie Community Engagement Classification, a designation indicating institutional commitment to enriching teaching and research while also benefiting the broader community. It is the leading framework for institutional assessment and recognition of community engagement in U.S. higher education for the past 14 years.
Dickinson is among only 119 U.S. colleges to receive the Carnegie Community Engagement Classification in the 2020 classification cycle. A total of 359 campuses are currently active holders of this important designation, which is awarded following a process of self-study by each institution. That study is assessed by a national review committee led by the Swearer Center for Public Engagement at Brown University, the administrative and research home for the Carnegie Community Engagement Classification.
"We are humbled and excited to receive this important designation," said President Margee M. Ensign. "Civic engagement work builds community resilience, prepares students for complex problem-solving and is a critical component of our college's mission to provide a useful education for the common good," she added.
Civic engagement is one of the pillars of a Dickinson education, along with global education and study of the environment and sustainability. All three are integrated into the curriculum and campus life. The college currently has more than 45 community engagement partnerships, with students and faculty exploring issues including transportation, access to healthy food and arts and literacy programs, among others.
"Much of what we are doing is about listening and collaborating," said Gary Kirk, associate provost & executive director of the Center for Civic Learning & Action (CCLA), Dickinson's home for civic engagement and community collaboration. "We recognize the expertise and the assets our community partners have in this work, and we share the human and intellectual resources of the college with our partners to address community needs."
Supported by a $900,000 grant from the Andrew W. Mellon Foundation, CCLA provides resources allowing faculty, students and community partners to work collaboratively, both locally and internationally, to better understand and address regional priorities and challenges. The center has expanded community-based teaching and research opportunities and provides expertise and support for academic departments working in civic engagement. The center also oversees The Civic Engagement Fund, which supports projects that promote civic learning and college-community engagement that benefit the public good.
ABOUT DICKINSON COLLEGE:
Dickinson is a nationally recognized liberal-arts college chartered in 1783 in Carlisle, Pa. The highly selective college is home to 2,400 students from across the nation and around the world. Defining characteristics of a Dickinson education include a focus on civic engagement; global education―at home and abroad; and study of the environment and sustainability, which is integrated into the curriculum and the campus and exemplifies the college's commitment to providing an education for the common good. http://www.dickinson.edu
ABOUT THE CARNEGIE FOUNDATION FOR THE ADVANCEMENT OF TEACHING:
The Carnegie Foundation for the Advancement of Teaching aims to build a field around the use of improvement science and networked improvement communities to solve long standing inequities in educational outcomes. The Foundation, through the work of the Carnegie Commission on Higher Education, developed the first typology of American colleges and universities in 1970 as a research tool to describe and represent the diversity of U.S. higher education. The Carnegie Classification of Institutions of Higher Education (now housed at Indiana University Bloomington's Center for Postsecondary Research) continues to be used for a wide range of purposes by academic researchers, institutional personnel, policymakers and others. For more information, visit http://www.carnegiefoundation.org.