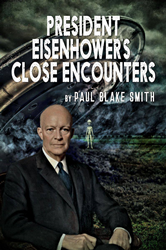 "It was exciting to see the pieces of the puzzle coming together, painting a picture of contact and secret treaties that we may be operating under today." – Paul Blake Smith
BRANDON, Miss. (PRWEB) February 18, 2021
Although the Extraterrestrials were reported to be friendly, Eisenhower was concerned that news of ET presence would cause national panic. In order to hide his own contact, and any other UFO related reports, Eisenhower created a program of secrecy, disinformation and smear campaigns meant to suppress all matters and forms of UFO experiences. It is speculated that some, if not all, of that program is still in effect today.
"Whether any of the visitors were distinguished as male or female entities was not stated, but we can at least be assured they were bipedal and moved about as any human would, one foot in front of the other, likely making certain not to make any abrupt or aggressive moves. Again, smiles and compliments were probably critical. The entities naturally wanted to speak to the most popular and powerful representative of the human race, and Eisenhower was the only one who fit the bill. Yes, the desert night air cooled the open hangars down considerably, but the evening was just heating up. The atmosphere was, as they say, electric. Maybe even fun. After opening greetings and introductions, the newly-arrived president – surrounded by six special bodyguards – apparently asked the aliens just what they were doing at the airbase, as politely as possible. What exactly did they want by this in-person meeting?" – from President Eisenhower's Close Encounters by Paul Blake Smith
President Eisenhower's Close Encounters was released November 23, 2020 and quickly rose to #1 in 5 categories, including 1950's History of the US on Amazon and is currently available on all online retail sites and for expanded distribution.
"I was surprised and impressed to find a massive amount of circumstantial evidence making a strong case for President Eisenhower's ET meetings in 1954. It was exciting to see the pieces of the puzzle coming together, painting a picture of contact and secret treaties that we may be operating under today." – Paul Blake Smith
Paul Blake Smith is a four-year Mass Communications Major with an English Minor from Southeast Missouri University. He previously authored the popular books MO41, The Bombshell Before Roswell: The Case for a Missouri 1941 UFO Crash and 3 Presidents, 2 Accidents: More MO41 UFO Crash Data and Surprises, released at opposite ends of 2016.
Facebook: PaulBlakeSmithAuthor; Twitter: @PBSmith18; Pinterest: pinterest.com/ma
Read more about President Eisenhower's Close Encounters here:
https://www.foundationsbooks.net/book/president-eisenhowers-close-encounters/
For author interviews and all media inquiries contact:
Susan Pierce
Publicist & Promotions Director
Foundations Book Publishing Company
sj.pierce@foundationsbooks.net
Direct: 404-410-6956