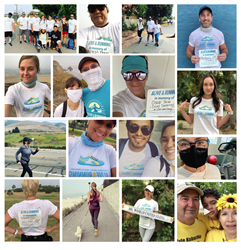 CULVER CITY, Ca. (PRWEB) October 02, 2020
The 22nd Annual Alive & Running 5K for Suicide Prevention, held virtually for the first time in Didi Hirsch Mental Health Services' history, raised over $440,000—surpassing the organization's fundraising goal for this year. Always held during September's Suicide Prevention and Awareness Month, this year's Alive & Running virtual event included online activities, videos and a Kickoff Ceremony headed by Melissa Rivers, which was streamed via Facebook Live.
The life-affirming event typically brings over 2,500 survivors of suicide together to remember loved ones and raise funds and awareness for Didi Hirsch's 62-year-old Suicide Prevention Center. Due to the pandemic, this year's virtual event included thousands of supporters who donated, created or joined teams, then walked or jogged separately in their own neighborhoods. The unique event was able to unite survivors, supporters and community members while observing COVID-19 safety and social distancing protocols. Mental health advocate and 2019 Golden Globes Ambassador Isan Elba, along with world-renowned musician KT Tunstall, both created videos in support of this year's event.
Didi Hirsch's Suicide Prevention Center is the first in the nation and a leader in developing and disseminating suicide prevention strategies nationwide. Founded in 1958, the Center offers a 24/7 multilingual Crisis Line that responds to people in distress nationwide, individual and family support for people affected by suicide, bereavement groups for adults and separate ones specifically designed for teens, and a variety of community and professional trainings in suicide prevention. Didi Hirsch also holds an annual Teen Summit to provide at-risk teens an opportunity to share stories, learn from one another and practice leadership skills.
Media partners for the event included Power 106, KLOS, KDAY, CALI 93.9 and Los Angeles magazine.
ABOUT DIDI HIRSCH MENTAL HEALTH SERVICES:
Didi Hirsch Mental Health Services transforms lives by providing mental health, substance use and suicide prevention services in communities where poverty or stigma limits access to care. Didi Hirsch's first-in-the-nation, comprehensive Suicide Prevention Center operates two 24/7 English/Spanish hotlines: the National Suicide Prevention Lifeline for anyone who is or knows someone in a crisis, and the national Disaster Distress Helpline for anyone in distress as a result of natural or manmade disasters. The Center also provides crisis services and therapy for people affected by suicide, as well as prevention training for students, teachers, police and first responders. Over 157,000 children and adults were served in 2019 at 10 locations and 120 schools in Los Angeles and Orange Counties. Learn more at: http://www.didihirsch.org.
For more information about the event, please visit http://www.aliveandrunning.org.
FB: Facebook.com/AliveandRunningLA
Twitter: @Alive_Running5K
Youtube.com/didihirsch
Instagram: @didi_hirsch