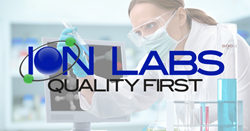 LARGO, Fla. (PRWEB) October 13, 2018
In the world of contract manufacturing, Ion Labs is currently in a highly accelerated growth period taking on one massive brand after another. 2018 has been a game-changing year for Ion Labs. Expansions in the form of personnel, machinery and product categories have all played a large role in the growth. Ion Labs attributes its growth to its responsiveness to customer inquiries, staying in close communication with clients at all times and providing lead times of the products accustomed to the client's required deadlines.
Ion Labs has been working with the largest, globally recognized nutrition brands in the world for over 30 years. In that time Ion Labs has mastered the skill of aiding businesses in adapting to their own success. With sales success comes product demand and operational growth. Many other CMOs lack innovation, the facility space, and responsive/transparent customer service to keep up with successful brands. Ion Labs provides all the elements needed to create a successful business partnership.
Ion Labs has incorporated the following groundbreaking updates to their facility in order to be on the forefront of the contract supplement manufacturing industry:

10 powder blenders ranging from 25kg to 6,000kg per batch
7 tablet presses (8 million tablets per shift)
8 double & triple head encapsulation machines (8 million capsules per shift)
6 liquid encapsulation machines; capable of manufacturing liquid capsules, capsule-in-capsule (with bands), beadlet capsules & beadlet-in-liquid capsules
3 coating machines ranging from 120kg to 600kg per pan load
4 bottling lines (125,000 bottles per shift)
1 automated powder filling line (30,000 bottles per shift)
Blister packing
Unit dose PVC vials
Automatic cartoning machines (bottles and blisters)
Shrink wrapping (bottles, trays, etc)
Shrink sleeving
Sachets (tablets/capsules [including multi-packs] and powders)
Stick packs
8 liquid/cosmetic mixing tanks ranging from 80 to 3,000 gallons
4 liquid/cosmetic filling lines (100,000 bottles per shift)
Ion Labs guarantees three main components to every client: transparency, trust, and traceability. Transparency in their operations and communication. Trust in their methodology and experienced staff, and traceability in the high-quality products they develop and continue to test for stability year-after-year. When businesses decide to partner with Ion Labs and become a customer, they come on-board with the idea to recreate existing products from their already successful catalog and continue to create new products to build their portfolio.
Private label supplements along with custom supplement manufacturing are available with Ion Labs. Create your own supplement with Ion Labs.