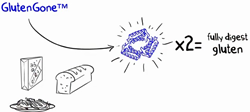 Beverly Hills, CA (PRWEB) March 27, 2014
In a new video from DietRecommendations.com they discuss digestive enzymes which are the natural substances needed by the body to help break down and digest the food people eat. When the body suffers a digestive enzyme deficiency it can cause increased weight gain, a slowed metabolism, or a weakened immune system. Found in every person's digestive tract the number of enzymes each cell can produce is limited and must be replenished through the foods in a diet or by supplementation. They note that when the body is producing enough enzymes people's overall health benefits greatly.
However, DietRecommendations.com provides alarming news and reveals that even when digestive enzymes are produced in the right amounts, they may only break down half of food's true nutrient value. Anyone suffering symptoms of gas, constipation, fatigue, skin rashes, bloating, and lowered immune function may not be producing enough enzymes. A number of factors contribute to this including age, stress, unbalanced diets, and poor eating habits. As a result it is extremely common for bodies to become unable to replenish adequate amounts of digestive enzymes.
Diet Recommendations suggests using a diet full of fruits, vegetables, healthy fats, lean proteins, and slow-digesting carbohydrates to begin the restoration process. However, they state that good health is not only dependent on a healthy digestive but also a healthy immune system. Not all diets meet the necessary requirements to accomplish both and while the aforementioned foods are a great start for improvement sometimes taking digestive enzyme pills, tablets, or supplements can be extremely beneficial. These provide many additional benefits that a diet does not including a reduction of stress in the digestive system and enhanced nutrient absorption in the immune system.
During the video the website makes some recommendations of what to look for in a supplement when using them for digestive enzyme replenishment. First, they insist making sure that it is a comprehensive blend of many different enzymes to guarantee the maximum breakdown and absorption of nutrients, proteins, carbohydrates, and fats. Additionally, checking the nutrition label to make sure it contains the best support nutrient capsaicin, an extract from cayenne pepper, is equally as important as it helps increase blood flow to deliver the nutrients. In concluding, Diet Recommendations makes it clear the important health benefits an individual can receive by replenishing their digestive enzymes through both a supplement and diet.
DietRecommendations.com has made a free ebook available in order to help restore the body's digestive enzymes. The top ten gut cleansing foods report is packed with valuable healthy digestion tips and tricks right here http://dietrecommendations.com/restore-digestive-health.