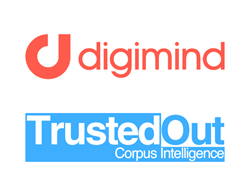 We are extremely proud to partner with Digimind. Digimind's mission to help their customers understand the world as it is, is a perfect fit with TrustedOut's mission to make Corpus Intelligence smarter and trustworthy
NEW YORK (PRWEB) April 15, 2019
In 2018, only 34% of people trusted the news, down from 74% in 1974 (Reuters Institute / University of Oxford). Fake news is just the tip of the disinformation iceberg. The overwhelming increase of unreviewed, unverified communication has lead to severe and growing distrust in content. Therefore, TrustedOut was founded on the principle that "only what is trusted in can be trusted out".
TrustedOut allows business intelligence analysts, brand safety managers, and PR professionals to define their own set of sources from a super-profiled media database to feed their analytics tools. Maintaining a fresh and consistent corpus of sources is a daunting and time-consuming task. TrustedOut uses the latest advancements in machine learning, web crawling, big data, and micro-services to overcome the limitations of human curation and bias, and deliver an always up-to-date, trustworthy corpus of sources.
Corpus Intelligence from TrustedOut, combined with the power of the Digimind platform, will provide immediate benefits to:

Business Intelligence analysts: use content you trust to make decisions with confidence
Brand Safety managers: define the perimeter of media you trust to promote your brand
PR professionals: set and compare different media groups by trust levels
In The Forrester Wave™: Social Listening Platforms, Q3 2018, the authors write that "buyers will struggle to distinguish major differences between each vendor's current offering because social listening platforms [...] all rely on the same data sources as the foundation of their platforms." 
We believe that the addition of TrustedOut's Corpus Intelligence will further differentiate Digimind from other vendors in this category.
"We are extremely proud to partner with Digimind. Digimind's mission to help their customers understand the world as it is, is a perfect fit with TrustedOut's mission to make Corpus Intelligence smarter and trustworthy" said Freddy Mini, co-founder and CEO of TrustedOut.
About Digimind
Digimind is the global leader in AI-Powered social listening platforms and market intelligence software, designed for brands and agencies who want to accelerate digital transformation through an insights-driven approach. Recognized by Forrester and Gartner, Digimind's best-in-class technology transforms social and online data into actionable business insights, enabling marketers to effectively plan, execute, and analyze their marketing strategy.
Digimind is based in New York, Paris, Singapore, Grenoble, and Rabat, serving more than 600 customers worldwide including LinkedIn, Sony, McCann Worldwide, and Lexus. Learn more at http://www.digimind.com.
About TrustedOut
TrustedOut introduces "Corpus Intelligence" to make Intelligence trustworthy, allowing our clients to precisely define what they trust with a uniquely profiled, AI-fed and permanently updated media database. TrustedOut will be in production in Q2 2019. Learn more at http://www.trustedout.com.