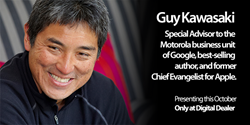 "How to Drive Your Competition Crazy"
Las Vegas, NV (PRWEB) August 05, 2013
With over 30 years of "in the trenches" business experience, Guy Kawasaki will bring his world-class expertise to Las Vegas this October.
In his session "How to Drive Your Competition Crazy," Guy will speak about the tactics he learned while doing battle against IBM and Microsoft during his time with Apple. He will also provide real-world examples of how being an early-adopter of technology will provide massive benefits, not only in the short term, but long term as well.
Advertising, marketing, and consumer engagement is rapidly changing, and the online marketplace is a world of information and strategy just waiting to be tapped into. Using his years of real-world experience, Guy will show you how to tap into that world and do it better than your competitors ever could. He will help you convert shoppers into buyers, and drive profits in ways that will have your competitors shaking their heads, wondering how you did it.
For over eight years, the nation's top dealers, managers, marketers and vendors have come to the Digital Dealer Conference & Exposition to capitalize on the latest digital trends. The largest conference dedicated to Digital Marketing and technology for automotive industry professionals, the Digital Dealer Conference & Exposition opens the channels of communication so that dealers and managers can topple the sales charts in a tech-driven world.
Guy Kawasaki is thought to have a "Golden Touch," that "Whatever is gold, Guy touches." He advises or invests in companies such as StumbleUpon, uStream, Evernote, Garage Technology Ventures, and Alltop. He has 10 books, including the best-sellers How to Drive Your Competition Crazy, Selling the Dream, and The Art of the Start. He is a special advisor to the Motorola business unit of Google and was previously the chief evangelist of Apple. He also has a BA from Stanford University, and an MBA from UCLA, along with an honorary doctorate from Babson College.
Guy Kawasaki's insights can be experienced October 15 – 17, 2013 at the Mirage Hotel and Casino in Las Vegas, Nevada for the 15th Digital Dealer Conference & Exposition. Learn more about the event at DigitalDealerConference.com.