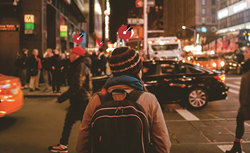 Engage your Audiences with Target Points
Garden City, NY (PRWEB) June 28, 2016
Rebuilt from the ground up, Target Points' new site hosts an easily navigable and user-friendly layout, eBooks and guides for its visitors' viewing pleasure, as well as being fully compatible with phone, tablet, and desktop devices.
Targetpointsinc.com gives users easy access to information on all of its digital services including Responsive Web Design, Search Engine Optimization (SEO), Search Engine Marketing (SEM), and Social Media Management (SMM), which are integrated in an inbound marketing strategy, with the goal of engaging audiences among small to medium sized businesses. In additional to its primary services, Target points can also assist with businesses in call tracking, digital branding, and local listings.
Offering tons of insightful and engaging content, the site's library page provides visitors with eBooks, guides, and marketing tips on how to optimize their digital strategy and online presence. Fully integrated throughout social media platforms like Facebook, Twitter, LinkedIn, Google+, and more, targetpointsinc.com ensures that its followers remain up-to-date on information that can help their business on the journey to conquering their digital landscape.
Lead Web Developer of targetpointsinc.com Vincent Minichiello is especially enthusiastic about site's unveiling: "It was a long road but seeing our vision finalized was worth the hard work. Just the idea of visitors seeing what the site can and what we're offering as a digital agency is enough to get excited. People are really going to love it."
Copywriter of Target Points, Malik Gay also expressed his delight over the new and improved website, stating, "As a digital agency our main priority is to show businesses that we can engage their audiences, and that begins with our website first and foremost. With this redesigned site we've done just that, displaying why we're the ones for the job."
The renovated targetpointsinc.com went live on 5/1/16.
Target Points Inc. is a digital advertising agency dedicated to creating your brand's online presence through unique strategy, helping you expand your customer base and engage your audience.