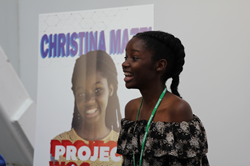 Our annual summit brings together thought-leaders who serve as mentors for teens working on projects in their communities, inspiring them to better themselves and those around them. Some can even pitch their ideas to Shark Tank mentors!
SANTA MONICA, Calif. (PRWEB) February 07, 2023
A community of positive change-makers will come together at the fifth annual Digital4Good Summit on March 12 and 13 in Los Angeles (hybrid in person and livestream event) to showcase the benefits of using digital technology for good causes. The livestream event will feature 10 outstanding student innovators presenting their projects to mentors from various industries. Lilliana Ketchman (AKA Lilly K) from Dance Moms will serve as the emcee.
Who: Digital4Good + teens nationwide
What: Awarding teens for using social media "4 good" and teaching anti-bullying methods
Where: Famecast HQ, 1533 26th St, Santa Monica, CA 90404
When: March 12th: Digital4Good Growth- mentors and winners only 2-6 p.m.
Concert + networking (open to schools coming in for event) 6-7:30 p.m.
March 13th: Digital4Good Live- 9-2pm main push for livestream power 9:30-10:30 a.m.
Why: Digital4Good is a nonprofit empowering students to improve their communities and is dedicated to promoting internet safety, responsible use and positive impact through social media. This year's event will offer opportunities to network with top social media influencers and tech companies, including Riot Games, LinkedIn, Twitch, Google, Meta (Facebook, Instagram), Salesforce, SnapChat and more.
Digita4Good partners every month with New York Yankees Captain Aaron Judge and his nonprofit called AllRise2Help Here is a video of him talking about the partnership.
Digital4Good was founded by a middle school teacher, Kim Karr, to address the adverse effects of cyberbullying and promote the use of social media for good. The organization aims to deal with the high rates of depression, anxiety, and suicide among youth and the spread of hate on social media that affects students' behavior in and out of the classroom. It was born out of the #ICANHELP initiative against cyberbullying, with students serving as the first line of defense.
"With Internet Safety Day on Feb. 7, now is the perfect time to talk about the good that these agents of change are presently doing to make social media a positive part of our lives," said Karr. "The digital landscape is here to stay, so finding great ways to use its powerful messaging abilities can lead to amazing results."
The two-day summit celebrates teens using digital media and technology to solve problems and advance social, economic, environmental and educational causes. The event will feature a fast-paced mix of panels, performances and award presentations. Digital4Good winners are recognized by students like them and celebrated by the ever-growing #ICANHELP community, mainly comprised of student leaders and interns. The winners are paired with mentors in relevant industries who can help them grow and advance their causes.
While the summit happens once a year, its positive impact extends year-round. Winners are paired with industry mentors who help them mature their organizations and support their continued growth. Each winner will share their mission with tens of thousands students, teachers and professionals worldwide.
"Our annual summit brings together thought-leaders who serve as mentors for teens working on projects in their communities, inspiring them to better themselves and those around them," added Karr. "Some can even pitch their ideas to Shark Tank mentors! It's wonderful to come together to recognize digital leadership at these livestream events each year and celebrate remarkable achievements."
Leading up to the summit, the nonprofit will hold several in-person and livestream events at schools in Southern California, showcasing students' social media projects, ranging from mental health support, helping disabled students, dating advice, how GenZ can safely socialize, preventing human trafficking and how to start a podcast.
Digital4Good shines a spotlight on student innovation and leadership to show the world just what kids and teens can do with the right tools, education and encouragement. For more information and to host your own watch party, visit http://www.icanhelp.net/digital4good.
###
About Digital4Good:
Digital4Good is our way of celebrating how our students can positively impact their communities using digital technology. With this access to digital technology, our students can showcase their innovative ideas and leadership skills to the world while promoting what kids and teenagers can do with the right tools, education, and positive encouragement. Our Summit serves as a celebration of those amazing student innovators who continue to make a difference in their communities through technology and digital media to solve problems and advance the social, economic, environmental, and educational causes of our world today.