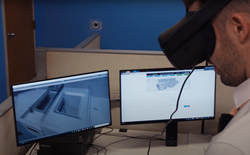 Simplio3D is designed to support businesses that need to align in the post-coronavirus period.
BUCHAREST, Romania (PRWEB) April 28, 2020
In just a few months, the world has changed in every way due to the COVID-19 outbreak, and for companies that sell customizable products, the sales process has become a little more challenging. There are still many companies that make proposals manually and it often takes too long to meet customer expectations. It is also often necessary to have several meetings and phone calls with clients until an agreement is reached on a proposal. A lot of time is spent writing the proposal instead of automating the process. These are just a few things that many companies will think more about in the post-coronavirus period.
Companies will seek to optimize their sales cycle not only to reduce contact with people as much as possible despite the current health situation, but also to reduce costs for making designs (e.g. CAD drawings, samples), lower the rate of returns and eventually sell more. Therefore, visually oriented quotation applications such as CPQ systems, 2D/3D product configurators and its integrations is something we believe more companies will start adopting in the coming years.
From furniture and clothing products to jewelry and shoes, almost anything can be customized with the adoption of a quote-to-cash application.
The Purpose of Simplio3D
The first version of Simplio3D was launched by Digital Artflow in 2014, as an alternative to another solution distributed by the agency, php Kitchen Planner. It was a floor planning system that did not cover many industries in terms of product customization capabilities. Therefore, Simplio3D came at the right time to meet the need to have a more complete product configuration platform to meet more inquiries.
SEL Platform
Over time, Simplio3D has become a complex platform, with a lot of features that replace the previous floor planning system. Today Simplio3D relies on its modular capabilities to build in a relatively short time and at an affordable cost almost any type of product configurator.
The SEL platform contains an impressive library of pre-built elements, such as: 2D and 3D viewport, product creator, e-commerce integration module, submission form, bill of materials, virtual and augmented reality extensions, distributor module, import and export bulk data and many other key features that makes Simplio3D a complete product configurator platform. The platform behaves like lego pieces, depending on the needs of a product configurator, the platform can mount the right parts to build it.
Immersive Product Experience
Simplio3D comes with new ways to engage customers with highly customizable products using the latest technology, virtual reality and augmented reality. Using immersive and mixed reality technologies, companies can easily simulate a highly accurate product experience and eliminate the need of phone calls and showroom visits. In the current global context, there is a likelihood that more companies will adopt this technology to help with their sales process.
There is an increase interest in WebAR and its implementation along with e-commerce platforms to introduce the user to an immersive experience directly through a mobile web browser. Simplio3D has made this easier using pre-built integrations with known ecommerce platforms. Basically, end users are able to "try" products using the device's camera and simulate what a particular product will look like in the allotted space, such as furniture or wearing items such as a watch or shoes. All this can be done anywhere, including from home.
Enviroment Friendly
Digital Artflow cares about the environment as much as other companies, which is why we encourage technologies that aim to rid the earth of unnecessary pollution. The visual oriented product configurator is another step forward and we are proud to contribute with our platform. With such applications you can reduce the number of returned products and eliminate making physical samples that would harm the environment.
Case Studies
The SEL platform is already confirmed with successful implementations at several companies such as: Gratnells, Krowne Metal Corporation, The Wise Company, KWB Group, FLS electronics and many more. To learn more about the case studies, please open the following link: https://simplio3d.com/case-studies/
For more information about Simplio3D, please visit us at: https://simplio3d.com/