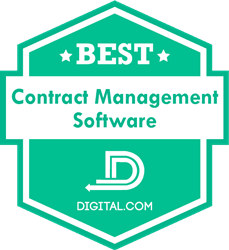 SEATTLE (PRWEB) December 18, 2020
Digital.com, a leading independent review website for small business online tools, products, and services, has announced the best contract management software of 2021. The top solutions were selected based on core benefits and customer feedback.
Experts at Digital.com examined software solutions that support the entire life cycle of the contract. Renewal reminders, audit trails, and authorship templates are all crucial tools for contract lifecycle management. Additional requirements include workflow management features, such as varying user permissions, external collaboration capabilities, easy search, and email alerts. Each software was also required to offer reporting and third-party integration capabilities.
"Legal, human resources, and sales teams typically use contract management software to track and store agreements," says Christelle Feniza, Communications Manager of Digital.com. "This guide is an effective tool for businesses that need to find the best solutions for their industry."
Digital.com's research team conducted a 40-hour assessment of over 90 companies from across the web. To access the complete list of best contract management software, please visit https://digital.com/contract-management-software/.
Best Contract Management Software of 2021

ABOUT DIGITAL.COM
Digital.com reviews and compares the best products, services, and software for running or growing a small business website or online shop. The platform collects twitter comments and uses sentiment analysis to score companies and their products. Digital.com was founded in 2015 and formerly known as Review Squirrel. To learn more, visit https://digital.com/.